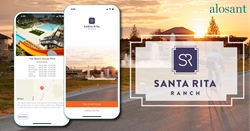 "Now more than ever, residents want to take advantage of dining, shopping, wellness, sports, outdoor activities and more without ever leaving their community," LaMon said. "We provide a seamless, unified experience that has become a true difference maker for home builders."
BOZEMAN, Mont. (PRWEB) March 19, 2021
Real estate technology company Alosant has launched new native branded apps for eight communities, along with a mountain ski resort, in just the past six months, digitally connecting developers, residents, prospective home buyers, local businesses, and more. Alosant now powers apps for more than 50 of the country's most innovative and fastest growing communities, reaching 150,000+ residents.
Founded in 2017, Alosant has emerged as a national leader in PropTech by creating a digital hub that serves an integral part of community residents' daily lives, connecting them with the place they live. Through their native branded app, residents stay informed and get involved using the one device they cannot live without: their smartphone. The Alosant ResX™ operating system (aOS) starts with a branded native app, which is designed and configured to best suit each community's unique needs.
Through the app, residents browse calendars and RSVP for events, book spaces, reserve amenity passes, share information with neighbors, communicate with local businesses, and access recreational information. Through its behavioral personalization technology, the app tailors each user's home-feed content based on usage, preferences, interests, and profile type.
The Alosant platform is scalable so key functions such as payment processing and access control can be added, creating an even more robust experience. For example, the recently launched Alosant ResX Marketplace feature enables real estate developers, home builders and businesses to create a dedicated page within the app, connecting them with residents and prospective home buyers.
April LaMon, CEO and Co-founder of Alosant attributes company growth, in part, to an influx of home buyers from the urban core to suburban, amenity-rich communities. In addition, the COVID pandemic enhanced the need for developers, businesses, community leaders and lifestyle teams to stay digitally connected with residents.
"Now more than ever, residents want to take advantage of dining, shopping, wellness, sports, outdoor activities and more without ever leaving their community," LaMon said. "We provide a seamless, unified experience that has become a true difference maker for home builders."
The newest communities to launch branded apps powered by Alosant include:
Lakewood Ranch by Schroeder-Manatee Ranch is a 33,000+-acre, award-winning master-planned community in Florida's Sarasota and Manatee counties. Ranked the #1 Multi-Gen Community in the U.S., Lakewood Ranch is home to more than 42,000 residents and features A-rated schools, the Lakewood Ranch Medical Center, the Sarasota Polo Club, the 75-acre Premier Sports Campus, its own Main Street with theaters, shopping and dining, and more than 4 million square feet of commercial property.
Santa Rita Ranch is an award-winning master-planned community nestled in the North Texas Hill Country along the bustling Ronald Reagan Corridor near Austin, Texas. Santa Rita Ranch
offers new homes from a dozen premier builders.
Pecan Square by Hillwood Communities is a one-of-a-kind, 1,200-acre, master-planned community of in Northlake, Texas. The community will feature approximately 3,000 homes, as well as commercial space, schools, natural areas and parks.
Rancho Sahuarita is as a thriving master-planned community of more than 18,000 residents and 5,700 homes just south of Tucson, Ariz. Over the past few decades, the community's first 3,000 acres of land has transformed into an award-winning, highly amenitized, master-planned community.
Heritage is an expansive master-planned community in Fort Worth, Texas originally developed by Hillwood Communities and now under HOA management. It features beautiful streetscapes, extensive landscaping, new home designs, and recreational features. Residents live and play in a friendly, small town atmosphere featuring a 2,855 square-foot Clubhouse, a private 10-acre aquatic complex, and 200 acres of neighborhood parks, playgrounds, lakes and trails.
First Colony is a true master-planned community near southwest Houston in Fort Bend County. It features a unique blend of residential neighborhoods and businesses with protective architectural guidelines and meticulously maintained streets, lakes, parks, and greenbelts.
Granby Ranch is a carefully planned family community of nearly 5,000 acres nestled in the Rocky Mountains, just 90 miles from Denver, Colo. The Fraser River meanders through the community, and Rocky Mountain National Park and Indian Peaks Wilderness provide stunning backdrops. Alosant also recently launched a branded, native app for Granby Ranch Resort, a mountain ski destination.
Cannery District is an award-winning, mixed-use development featuring vibrant, architecturally significant spaces located in the rapidly growing Bozeman, Mont. area. It features numerous commercial and retail tenants, as well Cannery Flats, the district's first apartment rental community.
In addition, Alosant is planning Q2 2021 launches for several new communities, including Regency at Folsom Ranch by Toll Brothers, an active-adult 55+ community in Folsom, Calif.; Wolf Ranch by Hillwood Communities in Georgetown, Texas.; Harvest by Hillwood Communities in Argyle, Texas; Union Park by Hillwood Communities in Little Elm, Texas; Blue Ridge Mountain Club in Blowing Rock, N.C.; and Sundance in Beaumont, Calif.
Each branded app is available to download via the App Store or Google Play. To learn more, visit alosant.com or follow the company on LinkedIn.
About Alosant
Bozeman, Mont.-based Alosant developed and powers the Alosant ResX™ operating system (aOS), a purpose-built software solution that connects people and places, specifically the key constituents within a residential community, including developers, home builders, residents, home shoppers, property managers, homeowner associations, local businesses, service providers and more. Offering "Everything in One Place," Alosant ResX starts with a branded native app, which is designed and configured to best suit each community's unique needs. Alosant ResX is now implemented in over 50 of the country's most innovative and fastest growing communities, including master-planned, single-family, multi-family, mixed-use, age-restricted, and member club. Alosant was founded in 2017 by real estate tech entrepreneurs April LaMon and Michael Swanson.