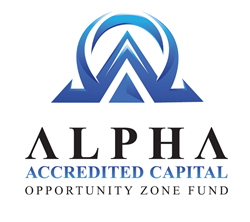 The initial Alpha Accredited Capital Opportunity Zone Fund Investment project will be the Burton Station Village. It will be a mixed-use development located in the city of Virginia Beach, Virginia.
VIRGINIA BEACH, Va. (PRWEB) April 27, 2021
Alpha Accredited Capital Opportunity Zone Fund launches and seeks $200 Million to develop the Burton Station Village. The Fund is authorized to raise $20 million in the Series A Round.
THE ALPHA MISSION
Alpha Accredited Capital is a Qualified Opportunity Zone Fund. Unlike many of the Opportunity Funds, Alpha has a strong vision and focus on improving our Nation as a whole.
Our mission is to provide the necessary resources in a simple and straight-forward method on a state-of-the-art platform so you can make confident investments decisions. We help you to streamline your investment process to your unique investment goals.
The initial Alpha Accredited Capital Opportunity Zone Fund Investment project will be the Burton Station Village. It will be a mixed-use development located in the city of Virginia Beach, Virginia. It includes Hotels, Apartments, a Veteran Assisted Living Facility, STEM Education all using HEMPCRETE to build the village.
All while Providing accredited investors access to private real estate investments with a high ROI.
Burton Station Village is a mixed used development located in the City of Virginia Beach, Virginia. This area was settled during the Reconstruction period by former freed slaves. The property which is owned by the descendants of those former slaves. Providence Partnership (the developer) will construct several different uses.
Since this project is located within one of eight Strategic Growth Areas (SGAs) which the City has identified for redevelopment opportunities funds are available for the construction of public facilities. The following bullet points provide a summary of the proposed uses:
160 Multi-Family Luxury & Garden Apartments
300 Veterans & Seniors Assisted Living Apartments
120,000 Approximate Sq. Ft of Commercial Retail Space
90 Brownstone Townhomes
Mixed Use Development: VIRGINIA BEACH, VA
Burton Station Village will also include:
10 Duplexes Total with 2 Units Each (3 BR/2 BA) (40 units total)
10 Fourplex Buildings with 4 Units Each (40 units total)
Single Family Homes
Museum Clubhouse
Community Center
Memorial Park Commemorating the Area History
Full-Service Boutique
High-Rise Hotel
Retail
Entertainment
Condos and Limited-Service Hotel
Multi-Level Parking Garage
Project Developers
EXPERIENCE WITH PROVEN SUCCESS
The principle partners of this project are Hollis D. Ellis, Danilo S.D. Cortado, Charles McCutchen and Davis N. Rogers. Mr. Ellis is a graduate of Old Dominion University in Civil Engineering and holds a Master's Degree in Business Management from Troy University. Mr. Cortado holds a Bachelor's Degree in Architecture from Hampton University. Mr. McCutchen holds a B.S. Degree from Old Dominion University and a Master's In Business Administration in Human Resources from Ashford University. Mr. Rogers holds a Bachelor's Degree in Mechanical Engineering and a Master's Degree in Mechanical Engineering from North Carolina A&T. All are accomplished in the engineering, architecture and real estate fields with multiple years of combined experience.
Davis Rogers and Noel Blanco will be the Senior Project Managers on the overall 7-year design build construction on the Burton Station Village.
Alpha OZ Fund
Charles McCutchen
FUND MANAGER
Charles McCutchen has more than 10 years investing in real estate and has syndicated numerous deals along his journey. With his highest raise to date being $4.6 Billion for a Theme Park that is still being funded. Other notable mentions is a Casino/Hotel in the California market.
Mr. McCutchen received a B.S. degree in Criminal Justice from Old Dominion University and his Master's in Business Administration from Ashford University. He has been featured on CNN, CNBC, and Fox News as a Best-Selling Author. He is also the CEO of a Nonprofit helping Veterans and those transitioning from the prison system.
Alpha OZ Fund
Danilo S. D. Cortado
BOARD MEMBER
Mr. Cortado has provided over 25 years of professional expertise to increase asset value by project management, mixed-use development and master planning, successful architectural design, design built, construction management and development for the department of defense, NAVFAC, NEXCOM, commercial, institutional, and municipal projects.
Mr. Cortado is a graduate with a Bachelor's in the School of Architecture on an accredited 5-year program at Hampton University 1990. His greatest accomplishments to date were the completions of design- build projects in record time of which the Lake Wright Hotel and Conference – an 250,000 S.F facility – was done in 12 months, the ECPI School of Technology 60,000 S.F. facility was done in 5 months and the Lockheed Technology Building 30,000 S.F. facility was done in 3 months. These were all turnkey facilities from start to finish.
Alpha OZ Fund
Hollis D. Ellis
BOARD MEMBER
Hollis D. Ellis has more than 15 years of experience in the civil engineering, site planning and analysis, and the development arena. His experience ranges from designing small urban redevelopment projects to large scale residential, commercial, and industrial subdivision design. He has also completed projects in housing, retail, office, marina, and golf course projects. To include the rehabilitation of single-family residences to preparing developer packages for real estate investment projects.
He also has experience in designing on-site wastewater treatment facilities for residential and commercial uses. Mr. Ellis received his Bachelor's in Civil Engineering from Old Dominion University and his Master's of Management from Troy State University and is licensed in the states of VA, NC, SC, and MD.
Alpha OZ Fund
Davis N. Rogers
BOARD MEMBER
Mr. Rogers graduated from NCA&T with a Master's degree in mechanical engineering. He has worked with facilities requiring quality control and manufacturing processes in Charleston, South Carolina and Enfield, Connecticut.
Mr. Rogers has been a Class A builder for over 20 years in Virginia Beach, Virginia.
OPPORTUNITY ZONES
The Innovative Tax Break of the Future.
Qualified Opportunity Zones (QOZ) are an economic development tool designed to spur economic development and job creation in distressed communities. Where new investments, under certain conditions, may be eligible for preferential tax treatment.
Under the program, an investor can defer capital gains tax on realized gains if the gains are invested in a Qualified Opportunity Fund within 180 days of the sale.
Twelve percent of US census tracts are Opportunity Zones (8,762 tracts). Governors of the 50 states and 4 territories and the mayor of Washington, DC, nominated the zones, which were officially designated by the US Department of the Treasury. The designated zones have lower incomes, higher poverty rates, and higher unemployment rates than eligible non-designated tracts.
3 KEY BENEFITS
1) TEMPORARY DEFERRAL OF TAXES ON PREVIOUSLY EARNED CAPITAL GAINS.
Investors can place existing assets with accumulated capital gains into Opportunity Funds they are not taxed until the end of 2026 or when the asset is disposed of.
2) BASIS STEP-UP OF PREVIOUSLY EARNED CAPITAL GAINS INVESTED.
For capital gains placed in Opportunity Funds for at least 5 years, investors' basis on the original investment increases by 10 percent.
3) PERMANENT EXCLUSION OF TAXABLE INCOME ON NEW GAINS.
For investments held for at least 10 years, investors pay no taxes on any capital gains produced through their investment in Opportunity Funds.
Alpha Accredited Capital OZ Fund
ADJUSTED REDUCED TAX BASIS
Initially, the tax basis is deemed to be zero. However, if the Opportunity Fund investment is held for at least 5 years, the basis is increased to 10 percent of the deferred gain.
Finally, if the Opportunity Fund investment is held past December 31, 2026, the investor will be deemed to realize the deferred capital gains as of December 31, 2026. As a result, the investor will pay capital gains tax on the amount of recognized gains as of that date (determined as described above, with basis adjustments if applicable).
The basis is then adjusted to equal the amount of the original Opportunity Fund investment. Finally, if the investor holds the Opportunity Fund investment for at least 10 years, the basis is deemed to be the fair market value of the Opportunity Fund Investment and no capital gains tax will apply to the appreciation of the Opportunity Fund investment.
ARE YOU READY TO INVEST IN OUR FUTURE?
The Alpha OZ Fund plans to provide reliable, long term growth for investors by developing Real Estate within the 8,700+ designated Opportunity Zones across the US. Building a brighter, sustainable future, while creating thousands of jobs and homes.
Opportunity Zone Fund Developer
Eazy Do It, Inc.
Virginia Beach, VA
What constitutes success?
Just like Benjamin Franklin believed, at EazyOZ, we believe that well-designed systems are a precursor to success. That is why we invest the proper resources to infuse proactive planning, lessons learned, and sound methodology that makes the difference between success and failure.
EazyOZ Opportunity Funds is one of the country's leading opportunity zone fund development agencies. Some of our team members have been involved in the opportunity zone program since before there was an opportunity zone program. As a company, we have actively been involved since day one having developed the 2nd Opportunity Fund in the country to open, and the 1st Business OZ Fund to launch. Moreover, several of our developed funds have been recognized as Top 25 Fund Managers 2019 & 2020, and EazyOZ is recognized as a National Top 10 OZ Expert.
We work with clients to develop structured turn-key opportunity fund solutions for businesses and real estate development projects which produce positive economic, social, and environmental returns for investors, stakeholders, and the community.
We invite you to experience an eazier way to develop your opportunity zone fund.
START INVESTING
Let's Get Started!
FUND TERMS & HIGHLIGHTS:
Status: Open to Investors
Type of Fund: LLC
Asset Classification: Multiple Assets
Fund Focus: Real Estate
Total Fund Size Authorized: $200M
Round A Max Offering: $20M
Minimum Subscription: $100K
Active Potential Investments: 3
Fund Administration: https://www.OZInvested.com
Anticipated Returns: 20%
PHONE: (757) 576-9598
EMAIL: Info@AlphaAccreditedCapital.com
Visit our website at https://www.AlphaAccreditedCapital.com
Alpha Accredited Capital
This Fund is 3rd Party Administered By OZ Invested
Privacy Policy
DISCLAIMER:
ALPHA ACCREDITED CAPITAL OPPORTUNITY ZONE FUND, LLC
Articles featured on this page are for informational purposes only. This is not an offer to sell nor a solicitation to buy Alpha Accredited Capital Opportunity Zone Fund, LLC. That can only be done by our current Confidential Private Placement Memorandum ("CPPM"). Securities offered by Alpha Accredited Capital Opportunity Zone Fund. For accredited Investors only. Limited liquidity. The shares being sold in this offering have not been approved or disapproved by the Securities and Exchange Commission or any state's securities division. Nor has the Securities and Exchange Commission or any state securities department passed upon the accuracy or adequacy of the CPPM or the disclosures provided therein. Any representation to the contrary is a criminal offense. The information contained in this website is for general information purposes only. The information is provided by Alpha Accredited Capital Opportunity Zone Fund, and while we endeavor to keep the information up to date and correct, we make no representations or warranties of any kind, express or implied, about the completeness, accuracy, reliability, suitability or availability with respect to the website or the information, products, services, or related graphics contained.