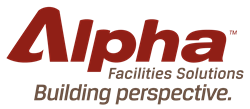 Adding ASMi to our service offering allows us to maximize the synergies between the Built Environment and the Workforce Environment.
SAN ANTONIO (PRWEB) November 17, 2020
ALPHA Facilities Solutions, a global provider of asset management services, today announced it has signed a definitive agreement to acquire a skills management platform from Dude Solutions, a leading provider of cloud-based operations management software. The acquisition of Advanced Skills Management Industrial (ASMi) underscores ALPHA's commitment to helping their clients manage the Built Environment – Facility and Infrastructure – together with their Workforce Environment. To differentiate between ALPHA's asset management service offerings associated with the built environment – Facilities and Infrastructure, ALPHA will market ASMi, critical workforce skills management application and other Information Technology professional services under ALPHA Prime Solutions. ALPHA Prime Solutions will focus on the Workforce Environment and IT solutions supporting federal/military, education, state, municipal and healthcare markets.
Designed to plan, build, manage and assess organizational readiness, ASMi is a cloud-based solution that configures training paths, learning objectives and work schedules based on job requirements. ASMi provides a single repository to better manage risk and mitigate liability while uncovering weaknesses to drive specific, targeted training and utilize Human Reliability Analysis and Human Error Probability.
"At ALPHA, we believe managing assets of every nature is mission critical to organizations. Today we are challenged by managing tangible assets such as buildings, infrastructure systems and equipment; intangible assets such as intellectual property; and, the most valuable of all assets – our people" said John Garcia, ALPHA Facilities Solutions Chief Executive Officer.
Mr. Garcia further elaborated that "Adding ASMi to our service offering allows us to maximize the synergies between the Built Environment and the Workforce Environment. All areas of our clients' asset management processes need people—the workforce. No matter the size of the organization, there is a need for carefully coordinated management of the workforce and built environment assets required for the mission they serve. Critical workforce skills management is asset centric. There can be no effective or efficient tangible or intangible asset management without workforce skills management."
To learn more about ASMi and ALPHA Facilities Solutions, visit alphafacilities.com.
About ALPHA Facilities Solutions
ALPHA Facilities Solutions is a global provider of asset management services featuring: workforce development, capital planning, maintenance management, environmental planning, investment strategy, space planning services, and lifecycle management delivery. ALPHA provides services to federal, educational, state/municipal, and healthcare clients. With extensive worldwide expertise, ALPHA successfully assists clients achieve their goals and maximize their return on investment.