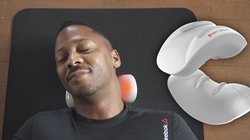 We are very excited to see that the Kickstarter community has shown such enthusiasm for the Alpha Neck. I am confident that all of our Alpha Neck backers will be able to find relief and comfort from the suffering that chronic neck pain can cause.
SEOUL, South Korea (PRWEB) April 12, 2021
After a successful Kickstarter campaign launch for the Alpha Neck, SPCARE is announcing that its campaign is on track to raise multi-six figures on the crowdfunding platform.
Unlike other massage devices that are available on the market today, the Alpha Neck targets the source of neck pain, which usually begins in the upper region of the thoracic spine. Users can start by using the back-bridge side to stretch out the spine and the muscles surrounding the area. This triggers a release of tension in the neck which can then be treated by using the neck-bed side of the Alpha Neck. The device also contains three unique features that are each inspired by a world-renowned massage style.
The muscles are primed through the heat therapy technology which mimics the effects of hot-stone massages. Gentle, yet powerful heat from the Alpha Neck permeates throughout the deepest muscle layers to relax them and to prepare them for both acupressure massage and muscle traction.
Through unique contour points on the neck-bed side of the Alpha Neck target high-issue muscle groups to untie knots and release built-up tension which is similar to the Shiatsu massage techniques.
Finally, the Alpha Neck performs Thai massage style muscle traction to place tension on the cervical or thoracic portion of the spine to put the joints back in their proper position and keep them still. This helps reverse the impact that electronic mobile devices have on the spine and overall body posture.
"We are very excited to see that the Kickstarter community has shown such enthusiasm for the Alpha Neck. I am confident that all of our Alpha Neck backers will be able to find relief and comfort from the suffering that chronic neck pain can cause." - Daesung Chang, CEO of SPCARE Co.,LTD
Although the super early bird rewards priced at $69 are now sold out, the early bird rewards priced at $75 are still available, but they are expected to be sold out soon. Backers who are interested in grabbing one for themselves are encouraged to reserve their reward as soon as possible, before the $75 reward tier is sold out. Any editors or influencers particular in the health, fitness, or technology industry interested in reviewing a product can contact the company through the contact information listed below:
SPCARE CMO: JJ Min
Phone: +82 10 5172 2269
Email: jjmin@spcare.co.kr