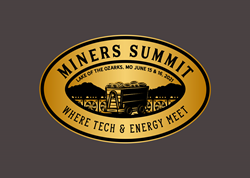 Miners Summit, Where Tech and Energy Meet
MORTON GROVE, Ill. (PRWEB) March 11, 2021
Alpha Vertical, Inc. has confirmed details for Miners Summit 2021 (MS2021)—the convention and trade show established for Bitcoin miners, data center operators, and energy suppliers. MS2021 is where tech and energy meet to build the connectivity and infrastructure required for the 2020s and beyond and will take place June 15-16, 2021 in Lake of the Ozarks, Missouri.
MS2021 is conceived and designed to facilitate meaningful connections among entrepreneurs, engineers, and other innovators working in and around industrial technology and energy. Whether you are a Bitcoin miner seeking a North American energy supplier or a provider of hardware solutions for data centers, your time at MS2021 will be well spent, providing you and your business with ample opportunities to identify potential clients and forge strategic partnerships—all amidst the scenic, tranquil backdrop of Lake Ozark.
Attendees of the inaugural Miners Summit in June will enjoy the luxury and amenities of The Lodge of Four Seasons, a full-service golf and spa resort befitting an executive retreat. The Lodge of Four Seasons is a veritable oasis for deal-making, replete with 36 holes of championship golf anchored by its Robert Trent Jones, Sr. signature golf course, The Cove. Both The Cove and The Ridge have been recognized among the finest golf courses in the Midwest. Spa Shiki, located in The Lodge of Four Seasons has been named by Spas of America as the number one spa in Missouri, and number five in North America.
More information and the Miners Summit promotional video can be found at minerssummit.com.
For more information, contact:
John Ambrose
Director of Business Development
512-387-3333 ext. 1005
http://www.minerssummit.com
ja@avinc.io
The Lodge of Four Seasons
315 Four Seasons Drive
Lake Ozark, MO 65049
Reservations: (855) 779-5870
http://www.4seasonsresort.com
http://www.GolfTheLodge.com
http://www.SpaShiki.com