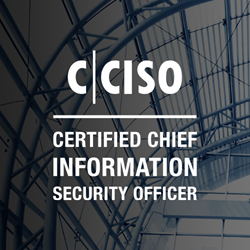 "The goal of the CCISO program is to facilitate a direct knowledge transfer from experienced managers to next-generation security professionals to prepare them for tomorrow's information security challenges."- Jana White, Chief Operating Officer
O'FALLON, Ill. (PRWEB) November 09, 2018
As an EC-Council Accredited Training Center (ATC) Alpine Security is proud to deliver the highest quality, in-person and remote classroom experience, while also providing private training at client locations. The company is proud to announce that they are adding the Certified Chief Information Security Officer (CCISO) course to their EC-Council lineup.
The CCISO program is designed for top-level information security executives and focuses on the practice of information security management from the view of executive-level management. Unique to this EC-Council training is the fact that it was developed and refined by CISOs for current and prospective CISOs. The CCISO Advisory Board pioneered the foundational content, developed the Common Body of Knowledge (CBK), and contributed as authors, exam authors, and trainers.
According to Jana White, Alpine Security Chief Operating Officer, "The authenticity of the course content is unprecedented as it was developed by sitting CISOs. The goal of the CCISO program is to facilitate a direct knowledge transfer from experienced managers to next-generation security professionals to prepare them for tomorrow's information security challenges."
To sit for the exam after taking training, candidates must have five years of experience in three of the five CCISO Domains verified via the Exam Eligibility Application. If candidates lack the experience, EC-Council can accept Professional and Certification and Education waivers. Between certification and training waivers, applicants can only waive 3 years of experience for each domain.
To register or learn more about the Certified CISO course, visit:
https://www.alpinesecurity.com/training/eccouncil/certified-ciso-cciso/
ABOUT ALPINE SECURITY
Alpine Security is a Service Disabled Veteran Owned Small Business (SDVOSB) providing premier cybersecurity certification training and cybersecurity services including penetration testing, risk assessments, incident response, audits, and digital forensics. Alpine Security offers an Exam Pass Guarantee for all of their cybersecurity certification courses. Alpine Security is based in the Greater St. Louis area and adds value to clients worldwide.