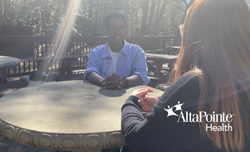 You have given me an opportunity to gain work experience and to feel independent. This program saved my life! Thank you!
MOBILE, Ala. (PRWEB) March 08, 2021
Lucian Wainright lives with serious mental illness. Sadly, he believes he would have taken his own life had it not been for AltaPointe Health's supported employment program.
Individual Placement and Support (IPS) is a model of supported employment for people with serious mental illness. AltaPointe Health's IPS-supported employment helps people living with behavioral health conditions work at regular jobs of their choice. Although variations of supported employment exist, IPS refers to the evidence-based practice of supported employment.
Each IPS team includes one Certified Peer Specialist, three Employment Specialists, a Benefits Specialist, and a Part-Time Supervisor. IPS Teams collaborate with vocational rehabilitation offices, career centers, education leaders, and community employers. IPS Teams provide ongoing support through all phases of job development and continue after employment is obtained.
Research shows that the IPS model has a high success rate when provided as a mental health service to individuals who want to join the workforce. Lucian Wainright, AltaPointe Health IPS participant, says the program saved his life. He is thankful for the opportunity.
"To my employer, I want to say thank you. You have no idea how good of a time I am having," Wainright added. "You have given me an opportunity to gain work experience and to feel independent. Thank you!" Wainright believes he would have succumbed to suicide had it not been for AltaPointe's program. "Without this program, I would not have been able to discover how I am as a person, and I think that I may have committed suicide a long time ago," he said.
AltaPointe Health IPS Supported Employment Benefits Specialist Tricia Murray says the growth Wainright has experienced is remarkable. Murray says when Wainright first joined the program, he was shy and had a hard time opening up. She says that is not the case now.
"After transporting Lucian to and from our meetings with the IPS Supported Employment team, I really got to know Lucian. We began having conversations about his goals and plans in life," Murray shared. "I am happy to say some of Lucian's goals have been met, and he is working hard to achieve even more. Lucian is why I believe in the saying; You can do anything you put your mind to. Lucian has experienced a lot in his life, and he has turned it around positively."
IPS follows eight guiding principles to help its participants succeed.

Competitive employment
Systematic job development
Rapid job search
Integrated services
Benefits planning
Zero exclusion
Time-unlimited supports
Worker preferences
Tuerk Schlesinger, AltaPointe Health CEO, says for many patients, work allows them to maintain wellness.
"AltaPointe's IPS supported employment staff has been able to help countless individuals just like Lucian, achieve competitive employment, therefore, improving their quality of life," Schlesinger said. "It is evident the IPS program can serve as an integral part of a patient's recovery."