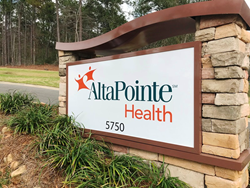 "This problem is not going away unless we talk about it.Sometimes it takes less than the 30-day prescription for some people to become addicted."
MOBILE, Ala. (PRWEB) October 25, 2018
In the Mobile Bay region, AltaPointe has helped people transition from uncontrollable opiate addiction to recovery through its Medication-Assisted Treatment since the 1970s. Today, more than 1,200 individuals receive treatment through AltaPointe Substance Abuse Services; 400 of them are enrolled in the medication-assisted treatment program.
"This problem is not going away unless we talk about it," says Marianne Saitz, O.D., medication-assisted treatment medical director, who works to determine when individuals seeking help are a right fit for the AltaPointe MAT clinic and whether the clinic is right for them.
Lortab®, OxyContin®, Percocet®, Morphine®, and other abused and misused opioid prescriptions create such euphoric feelings for some individuals that they become addicted. Saitz recently gave her perspectives about the opioid epidemic and how Medication-Assisted Treatment can be the catalyst to overcoming addiction.
Dr. Saitz says over-prescribing opiates is cause of the crisis.
What do you believe has caused the widespread increase in opioid addiction and subsequent overdoses?
Saitz: The over-prescribing of opiates is the primary problem. Opioid painkillers are not necessary for some procedures. You don't necessarily need Lortab when you have a tooth pulled. Tylenol® should suffice.
What drugs do you see as the most abused by AltaPointe consumers?
Saitz: AltaPointe providers say Lortab®, now known as Norco®, is the most abused drug.
How is prescribing an opioid painkiller related to addiction?
Saitz: The majority of addictions begin with a prescription from a doctor. When an individual takes the opioid because of the euphoric feeling they get, they often can tell they're getting into trouble. However, they don't talk to their doctor about this because they know the doctor will cut off their prescription, basically firing the patient. When this happens, the patient is not referred to substance use treatment or weaned off the medication. They are physically addicted to painkillers and need medical help to get off the drug
When can a physician tell that patients are in trouble with opiates?
Saitz: There is a change in the patient's behavior. They request early refills using excuses such as they lost the bottle or the dog ate it. Another way they find out is when a patient visits the ER and gets another opioid prescription. The ER is required to report the prescription to the Alabama Prescription Drug Monitoring Program, a registry of all controlled substances prescribed in the state.
How much time does it take to become addicted?
Saitz: Sometimes it takes less than the 30-day prescription for some people.
What is happening in the brain that makes someone susceptible to addiction?
Saitz: Opioid use can change brain chemistry. The body reports to the brain that it is gaining pleasure from the opiate, which reinforces the need to take the medication. When someone addicted to opioids stops taking the drug, for weeks they are very sick and feel like they have the worst-ever case of flu. Taking more opiates to feed the brain's need for the drug is what gets them out of bed every day.
Why is MAT the best option for many to recover from addiction?
Saitz: Replacing the illicit opiate with medications such as Methadone® or Suboxone® will control withdrawals and cravings. People do not get high from these medications. They help keep them from not being sick and keep them in and out of constant withdrawals. Seeing the patients every day for the first 90 days also is part of the reason why MAT is so effective. It allows them to feel normal and to be able to function. They are no longer sick and no longer chasing the high. They can repair damaged relationships and can hold down jobs that they were not able to do when they are using.
What advice would you give someone wanting to help an addict?
Saitz: When you suspect someone of having an opioid addiction, it is always best to not accuse them. Say that you're very concerned, that you've noticed changes in behavior or in their personality and that you're worried they may have a problem. Many people don't know there is help for their problem or that it is a treatable disease. It would make it easier for someone that seeks help to have a friend or loved one accompany them to treatment the first time they go. You wouldn't sit in on any conversations or the assessment. You would merely drive them to the location, sit in the waiting room; provide that sort of support.
When is it acceptable to call your loved one's doctor about his or her addiction?
Saitz: When you think someone has gotten to the point that they're doctor shopping or getting drugs their doctor doesn't know about, it quickly can become a matter of life or death. That's when you should call their doctor and say, "You're prescribing 'x' medication for my son or daughter, and they're also doing this or that." It is not a HIPAA violation, and frequently doctors have no idea their patient is mixing prescribed meds with other things.
What should the public know to prevent addiction or identify someone who has an opioid addiction?
Saitz: The public needs to know this is a disease that creates a difference in brain chemistry or brain receptors for people who become addicted. If you need help or know someone that needs help, you can go to your primary care physician where your doctor will link you to services.
Is there one primary barrier to treatment?
Saitz: People with jobs are afraid of being fired if their employer learns they have an addiction. That happens because most employers don't view addiction as a disease.
AltaPointe offers FREE medication-assisted treatment to qualifying individuals in the Mobile Bay region. For more information, please call (251) 666-2569.