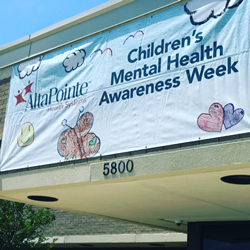 MOBILE, Ala. (PRWEB) May 07, 2020
Children's Mental Health Awareness Week (CMHAW) is underway across AltaPointe Health's continuum. Every year the first full week of May is set aside to raise awareness about children's mental health and the programs available to treat the youngest of patients. The National Alliance on Mental Illness (NAMI) reports 1 in 5 children 13 to 18 years of age have, or will have a serious mental illness.
During this unsettling time, mental health experts expect to see an increase in calls for access to care when compared to the same period last year. Fear of becoming sick, family stress, and how long the pandemic will last will have people seeking help who never needed mental health support before, including children.
Children's mental health is a priority for AltaPointe Health. In 2019, more than 11,000 children were treated at an AltaPointe program. AltaPointe has a full continuum of care devoted to children, including; outreach, outpatient, residential services, hospital services, and school-based therapy. AltaPointe's school-based therapy program reaches students in schools across Mobile, Baldwin, and Washington counties, as well as schools in Clay, Coosa, and Talladega counties.
NAMI says 50 percent of all lifetime cases of mental illness begin by age 14. The average delay between the first signs of illness and treatment is 8 to 10 years. Experts agree the sooner you seek treatment, the higher your chance for recovery.
AltaPointe wants to help you understand what's normal, what's not, and what's next when it comes to your child's behavior. You can tune in to AltaPointe Health's Facebook page for a live event on Friday, May 8, at 1 p.m. to hear from the experts.
Eddie Pratt, therapist and coordinator of AltaPointe's day treatment services in Baldwin County, along with Nicolette Harvey, Licensed Independent Clinical Social Worker and assistant director of BayPointe Children's Hospital, will answer your questions and help you recognize when you may need to seek professional mental health help for your child or adolescent. BayPointe provided 117,319 psychiatric services in 2019.
AltaPointe strives to be a provider of choice in health and specialty services for people of all ages living in the Mobile Bay region and east-central Alabama. Using specialized training, best clinical practices, and innovative technology, we work to provide the best care possible in our outpatient, residential, psychiatric hospitals, and primary care settings. AltaPointe offers services to residents living in Baldwin, Clay, Coosa, Mobile, Talladega, Randolph, and Washington counties. It employs 1,550 people and serves 35,000 individuals annually. It is Alabama's most comprehensive health and human services organization.