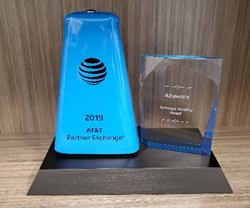 "Helping businesses build equity value by focusing on business impact first, technology second" – Rickie Richey, CEO
FAIRHOPE, Ala. (PRWEB) January 09, 2020
Altaworx received another outstanding award for 2019. They were presented with the prestigious Strategic Mobility Award. AT&T celebrated 15 of the top-performing solution providers for its success across 8 categories. Winners were selected based on their achievements and excellence in each category. Each winner took home one of the coveted cowbell awards. The Cowbell Award is a highly coveted award handed out each year to Solution Providers who are at the top of their category in new sales revenue. The Cowbell Award was instituted at the launch of the AT&T Partner Exchange program in 2013 to celebrate the very first Solution Provider signed into the program. It is AT&T's way of saying 'job well done, let's celebrate our collective success'.
Altaworx, located in Fairhope, AL, was founded in 2003 by Rickie Richey, to address the emerging demand for Voice over Internet Protocol (VoIP) business telephone systems. His vision was to build a company that not only provides leading-edge technology but truly focusses on helping customers drive revenue, control expenses, increase productivity and operate more efficiently. In 2011, Altaworx continued to focus on customer impact through emerging technologies, becoming an internet telephony service provider or ITSP. The company began selling Altaworx branded SIP trunking and Hosted PBX solutions to business customers in the 22 state AT&T footprint. Today, the company operates its cloud-based voice solutions from two AT&T data centers; Dallas, TX and Atlanta, GA.
*AT&T products and services are provided or offered by subsidiaries and affiliates of AT&T Inc. under the AT&T brand and not by AT&T Inc."