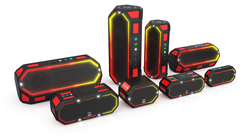 Altec Lansing has continued to evolve in tandem with the lifestyle of the modern consumer and this is clearly represented in our booth and product offerings at CES 2020
LAS VEGAS (PRWEB) January 06, 2020
Altec Lansing will celebrate the rich heritage and expanding footprint of the storied American audio brand with a host of exciting new product launches at CES 2020, including innovative speakers, headphones and earphones, the brand's first gaming accessories and products designed for new territories across the globe. All products will be on display in a dynamic new booth design (LVCC, Central Hall, Booth #16029), which celebrates the brand's rich history, new direction and global reach.
"Altec Lansing has continued to evolve in tandem with the lifestyle of the modern consumer and this is clearly represented in our booth and product offerings at CES 2020," said Ike S. Franco, CEO of Altec Lansing. "Product debuts across a variety of different categories mark the expansion of the Altec Lansing brand in both the breadth of our offering and our global presence. We are proud to provide more consumers around the world with quality and attainable audio products and electronics accessories."
Audio Products for Today's Consumer
In 2020, Altec Lansing is set to launch a wide array of audio products designed to keep up with the lifestyle of today's listener. The brand will debut additions to its widely popular line of durable Everything-Proof Bluetooth speakers, including the first Altec Lansing speakers to include Play Your Way technology. The two largest speakers in the line can be played vertically, for true 360 omni-directional sound, or horizontally, for stereo sound, offering users multiple ways to listen to their favorite music. Additions to the Everything-Proof line join new True Wireless earphones, Bluetooth headphones, party speakers, pro audio solutions and home audio products to round out Altec Lansing's comprehensive range of quality audio products designed to bring music into all aspects of consumers' lives.
Global Sounds
Altec Lansing is introducing a wealth of global initiatives in 2020, highlighted by the brand's Global Sounds line of Bluetooth headphones. These headphones incorporate elements of flags from 29 different countries and represent how music and sound connect people around the world through Altec Lansing products. The Altec Lansing brand is also expanding into new territories this year, recently opening a headquarters in the EU and rolling out a line of products exclusive to Europe. Additionally, the brand launched a line of audio products and accessories exclusive to the Indian market that are tailored to that territory.
Growing Category Ranges
Making its debut at CES 2020 is Altec Lansing's line of accessories specifically designed for E-sports gaming. The range of accessories will not only include gaming headsets and other audio products with the immersive sound consumers have come to know and expect from Altec Lansing, but will also include a wide range of mobile, PC and console gaming accessories designed to offer casual gamers and enthusiasts quality products they can trust at an exceptional value. The gaming line will join fresh power solutions in the brand's recently launched collection of wireless charging accessories. The AL9111 3-in-1 wireless Apple charging station and AL9257 headphone charging stand with charging pad join the product line-up to provide comprehensive solutions for today's mobile user.
Guests can experience Altec Lansing's new range of products at CES 2020 at the Altec Lasing booth—LVCC, Central Hall, Booth #16029. For more information on products from Altec Lansing, visit http://www.alteclansing.com.
About Altec Lansing
Since 1927, generations of music enthusiasts have recognized Altec Lansing as a premier brand that consistently delivers high quality and rich sound in a host of audio products including; headphones, earphones, Everything-Proof speakers, home and car audio, DJ speakers, turntables, mobile accessories, gaming accessories and more. Altec Lansing provides a seamless combination of beautiful design aesthetics and terrific sound to exceed every audiophile's expectations. Those who know audio, know Altec Lansing. http://www.alteclansing.com / @alteclansingofficial