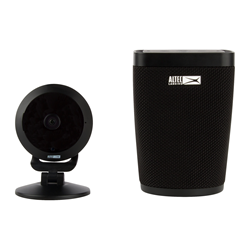 LAS VEGAS (PRWEB) January 10, 2019
CES Booth #16029) – Altec Lansing, innovator in audio, unveils a new line of Voice Activated Smart Security Systems featuring their superior speakers, new security cameras, and other new smart home gadgets designed to monitor and protect your home. The launch at this year's CES signifies Altec Lansing's first foray into smart home security. Taking from the brand's deep knowledge and expertise in high quality and durable speakers, each security system features the necessary gadgets for ultimate home surveillance, with seamless installation. Newly added gear, such as the Wi-Fi Panic Buttons, Wi-Fi Motion Sensors, and Wi-Fi Multicolor LED Light Bulbs to name a few, complete each system for a turn-key security solution for any home, apartment, or living space.
The Voice Activated Smart Security Systems feature a 1-2-3 setup model, providing a straightforward installation process. Users simply download the Altec Lansing Smart Home Security app on their smartphone, place each device in their desired position within the home, and connect the devices to your phone to control them from anywhere, at any time.
ASH-100 (MSRP of $99.99, Available Now at Walmart)
Monitor your home from anywhere and control your Google and Amazon Alexa compatible products with this easy-to-use smart home kit featuring a motion sensor camera and connected speaker. The bundle allows users to watch over their home, and communicate as needed with the two-way speaker. The kit includes:

ALT-117 Camera: Featuring free cloud storage, this full HD1080p Panoramic view camera has digital pan, zoom, and tilt to get full views of your home. The motion sensor gives you the option to contact to the fire or police department.
GVA-2 Speaker: A portable speaker to connect to Google Assistant via Wi-Fi and Bluetooth, featuring 4 hours of battery life. Make phone calls to friends and family using the built-in Google Assistant.
ALT-1021 (MSRP of $89.99, Available Q2/Q3 2019)
Protect your home easily with a security system featuring the 80db siren, flashing multi-color lights, and instant notifications for you to quickly call the police when motion is detected from the camera.

ALT-220 Camera: Watch over your home at all hours with facial recognition and night vision. The 80db alarm and 2-way audio give you instant access to communicate and alert those in your home. Free cloud storage ensures you can go back to view the footage taken by the security camera.
ALT-630 Multicolor LED Bulbs (2): Auto set to sunrise and sunset, or customize the lights to match your family's schedule. Flashing alerts available for when motion is detected.
ALT-1040 (MSRP of $149.99, Available Q2/Q3 2019)
This kit is the perfect addition to any senior citizen's home to ensure their space is safe and allows them to instantly get in touch with family and friends incase of an emergency. The bundle includes:

ALT-220 Camera: Panoramic views give you peace of mind and the ability to watch over elderly loved ones, ensuring their home is safe. Motion sensor alerts give you the option to call the fire or police department when an emergency occurs.
GVA-0 Speaker: Your loved one can easily place phone calls to family and friends with the speaker's built-in Google Assistant.
ALT-740 IPX6 Panic Button: Caregivers will be alerted immediately when the panic button is used. The IPX6 waterproof rating provides the durability to keep the panic button on them at all times.
The Voice Activated Smart Security Systems will be available starting in Q2 and Q3 of 2019. The new line and more will be previewed at CES® this week at the Las Vegas Convention Center, January 9-12, 2018, at the Central Hall, Booth #16029. For more information visit http://www.alteclansing.com.
About Altec Lansing
Since 1927, generations of music enthusiasts have recognized Altec Lansing as a premier brand that consistently delivers high quality and rich sound in a host of audio products including; headphones, earphones, everything-proof speakers, home and car audio, DJ speakers, turntables, mobile accessories, and more. Altec Lansing provides a seamless combination of beautiful design aesthetics and terrific sound to exceed every audiophile's expectations. Those who know audio, know Altec Lansing.
http://www.alteclansing.com l @alteclansingofficial
For more information, please contact:
Ashley Willis, Resound Marketing for Altec Lansing
ashley(at)resoundmarketing.com / O: 609.279.0050x105 / C: 732.500.2735
###