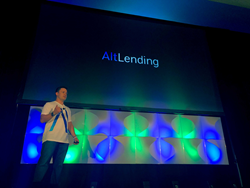 LAS VEGAS (PRWEB) November 02, 2018
AltLending Inc, an alternative lending platform offering USD loans to companies looking to monetize their blockchain assets, announced the introduction of its two newest products for cryptocurrency miners, Mine. Secure. Borrow. and 360 Financing. The first new product, 'Mine. Secure. Borrow.' is designed to assist miners with their working capital needs. The product is the first in the industry. Through this product, Miners are able to mine Bitcoin and Ethereum to secure cold storage. They are then able to use this newly mined cryptocurrency as collateral towards a working credit line with AltLending. The second, 360 Financing, helps miners interested in growing their business with bespoke financing solutions. From expanding data centers to updating mining rigs, AltLending can create bespoke asset based lending solutions for both public and private companies, using either cryptoassets, real estate or receivables as collateral.
"It is well known in the crypto community that miners often face a number of financial obstacles to grow their operations. We wanted to come up with new and innovative ways to help them. 'Mine. Secure. Borrow.' and '360 Financing' are AltLending's solutions to this problem. We are the first in the crypto lending space to offer these types of liquidity solutions to the mining community." - Young Cho, CFO of AltLending.
The introduction of these innovative new products came after AltLending observed the needs of its mining clients. AltLending is first to market with these new products for cryptoasset miners. This introduces an effective and simple method for miners to obtain loans through their already established mining activities. By bringing these products to market AltLending will pave the way for the future of other new types of cryptocurrency loans.
Company Description 
AltLending is an institutional only lending platform that makes USD loans secured by existing cryptoassets of their borrowers (initially BTC and ETH) and holds clients' blockchain assets with a best-in-class custodian. The core team is comprised of veterans that have successfully built technology startups, worked at large financial institutions, built and operated strong compliance and regulatory programs and transacted in over a $1B in direct principal investments. AltLending builds on Dominion Capital's and its teams' experience in originating and managing loans, conducting risk management, setting up best practices, and helping businesses scale their operations. Dominion is an asset manager and has deep history and experience making asset based loans in niche markets.
To learn more about AltLending please email us at contact(at)altlending.com or visit our website https://www.altlending.com.
Dominion Capital: http://domcapllc.com
World Crypto Con: https://worldcryptocon.com/
Linkedin: http://www.linkedin.com/company/alt-lending/  Twitter: http://www.twitter.com/altlending
Telegram: https://t.me/joinchat/DOgjIw7yqoos6bMHZgsV_g