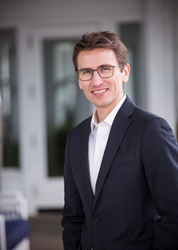 BOSTON (PRWEB) May 17, 2019
Altman Vilandrie & Company, a leading strategy consulting firm focused on the communications, media, and related technology sectors, has promoted Charles Cieutat and Swope Fleming to director. Cieutat and Fleming advise the firm's Telecommunications, Media, and Technology sector and investor clients on a range of business strategy issues.
"Charles and Swope have earned their promotions by making significant contributions to the success of our clients and growth of our firm," said Altman Vilandrie & Company COO Steve Conway. "Swope's background in engineering and Charles' dual experience in Telecom/IT provide them with unique perspectives to address the core business challenges of our TMT clients."
Cieutat, who is based in Altman Vilandrie & Company's San Francisco office, has more than 15 years of experience in the Telecom and IT industries, advising on growth strategy, go-to-market planning, business case development, and M&A for communication service providers, Internet infrastructure providers, equipment manufacturers, software/IT services vendors, and investors. His areas of expertise include wireline and wireless/IoT telecom services, telecom infrastructure (e.g., data centers, fiber, subsea fiber, towers), cloud and IT services, and enterprise software.
Prior to Altman Vilandrie & Company, Cieutat worked in corporate IT in France, including as a SAP System Manager at Renault/Nissan and as a Telecom Technical Sales Engineer at Orange, at which he designed complex corporate networks.
Cieutat holds a B.S. in Electrical Engineering and Computer Science with High Distinction from Telecom SudParis, France and a M.S. in Telecom Engineering with High Distinction from Monash University, Australia. He also earned an M.B.A. from the Tuck School of Business at Dartmouth.
Fleming, who is based in the firm's Boston office, has extensive experience in Enterprise services and related infrastructure. Fleming has advised numerous strategic operators on sales channel strategy, product strategy, and organic market expansion strategies. In addition, he has advised investors on numerous transactions, including regional and international fiber providers, data centers, wireless infrastructure, Enterprise software, value added resellers, and subsea cable assets.
Prior to his work with Altman Vilandrie & Company, Fleming amassed 9 years of experience as an engineer in semiconductors, assisting multiple design teams at Sun Microsystems, Conexant, Freescale, SigmaTel and Oasis Semiconductor.
Fleming holds a M.S. in Engineering and Management from MIT Sloan and graduated cum laude from Princeton University with a B.S. in Electrical Engineering and Computer Architecture.
About Altman Vilandrie & Company
Altman Vilandrie & Company is a strategy consulting group that focuses on the telecom, media, technology and investor sectors. The company's consultants are experienced in strategy, marketing, finance, M&A, technology, regulatory and operations disciplines. Based in Boston, with offices in New York City and San Francisco, Altman Vilandrie & Company enables clients to seize new opportunities, navigate mounting challenges, improve business performance and increase investor value within complex and converging industries.
Ninety percent of the boutique firm's operator clients are large- to mid-cap companies including service providers, technology and software developers and media companies. Altman Vilandrie & Company's financial clients include many of the largest and most prominent investors in the telecom, media and technology markets.