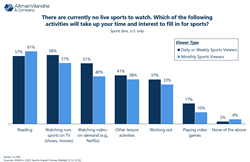 Entertainment, exercise and reading are fundamental to countering the lack of live televised sports for many fans.
BOSTON (PRWEB) March 25, 2020
U.S. sports fans say they are turning to watching non-sports TV and streaming services, reading, and working out during the "sports blackout" created by the coronavirus outbreak, according to a new survey by Altman Vilandrie & Company. The survey also shows that three-quarters of regular sports viewers are still currently following their favorite leagues.
"Entertainment, exercise, and reading are fundamental to countering the lack of live televised sports for many fans," said Altman Vilandrie & Company Principal Matt Del Percio. "Sports fans are still interested in following their favorite leagues despite the lack of games, meaning there's opportunity for sports leagues and networks to continue engaging sports viewers with creative strategies."
According to the Altman Vilandrie & Company survey, regular adult sports viewers plan to read (59%), watch non-sports TV programming (55%), binge Netflix or other streaming service (47%), and work out during the gameplay suspension (36%). Only 14% say they will play video games more, although that number is higher for younger adult viewers.
Avid sports viewers are overwhelming sticking with their favorite leagues: 77% say will continue to follow their favorite sports league/competition during the blackout. That rate falls to 52% for monthly sports viewers. Nearly all (94%) of daily/weekly sports viewers say they will return to viewing their favorite league/competition once gameplay resumes.
Of the top three North American professional sports leagues and the NCAA, the NBA (76%) has the highest rate of fan interest during the gameplay suspension. The NCAA (96%) has the highest percentage of fans who plan to return to watching when gameplay resumes. Del Percio noted that fan interest in the NFL could rise with free agency now in full swing and high-profile players like Tom Brady changing teams.
The NBA rates better than other sports leagues in terms of fan willingness to watch eSports in the place of real-life sports, follow developments, and to return after gameplay returns. This is driven in part by the NBA's younger fan base relative to the other major leagues.
"The major sports leagues have built strong loyalty from regular viewers over the years so most fans will stick with them during and after the shutdown," said Del Percio. "The challenge for the leagues is to work with to quickly create engaging content that viewers will want to watch and/or engage with. For instance, offering fans access to archived games (like the NBA and NFL recently did) or offering virtual games/events featuring current athletes – like NASCAR iRacing and F1 Virtual Grand Prix series."
While it's too soon to tell (and hard to predict future behavior), the data indicates the virus's impact on sports fans will vary significantly by market and sport. For instance, a significant portion of sports fans in Japan say that they plan to attend fewer sporting events in the future as a result of the current situation.
Altman Vilandrie & Company fielded an online survey in March 2020 to 500 U.S. adult respondents that are regular or occasional sports viewers, measuring consumer behavior during the "sports blackout" and gleaning insights about the impact of the coronavirus on future sports fandom, viewership and attendance. More details from this survey, including charts, can be found here. Last fall, Altman Vilandrie & Company released a comprehensive 2019 Sports & News Survey that measured consumer interest and willingness to pay for sports and news programming, and revealed current trends about sports fandom, viewership, and betting habits.
About Altman Vilandrie & Company
Altman Vilandrie & Company is a strategy consulting group that focuses on the telecom, media, technology and investor sectors. The company's consultants are experienced in strategy, marketing, finance, M&A, technology, regulatory and operations disciplines. Based in Boston, with offices in New York City and San Francisco, Altman Vilandrie & Company enables clients to seize new opportunities, navigate mounting challenges, improve business performance, and increase investor value within complex and converging industries.
Ninety percent of the boutique firm's operator clients are large- to mid-cap companies including service providers, technology and software developers, and media companies. Altman Vilandrie & Company's financial clients include many of the largest and most prominent investors in the telecom, media and technology markets.