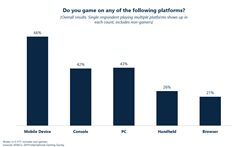 BOSTON (PRWEB) March 01, 2019
After years of surging mobile gaming growth, 70% of American adults now play video games on their smartphones, according to a new report on gaming trends released today by strategy consulting firm Altman Vilandrie & Company.
The report, which includes a comprehensive consumer survey of gaming habits in the U.S., China, Japan, and U.K., comes as mobile gaming is poised to become the dominant driver in the global gaming market in 2019, generating more revenue than Console and PC platforms combined and expanding gaming accessibility.
Gaming reaches mobile tipping point
The overall video game market size, projected at $167 billion for 2019, is expected to grow 5% annually from 2018 to 2022, almost entirely driven by the continued growth in mobile gaming (10% annually). Mobile is the most-used platform in gaming, with 83% of all gamers stating that they play on their smartphone or tablet, versus 54% each for Console and PC.
The continued growth in popularity of Mobile has shifted the balance of power among gaming platforms; Consoles and PCs, once dominant in the gaming market, have shown only modest growth recently and will be eclipsed by Mobile revenues in 2019 ($80B Console & PC v. $86B Mobile). Despite Nintendo's resurgence with the Switch, console shipments still lag historical highs and the overall installed base for consoles is shrinking.
However, even as the market has shifted to Mobile, less than 5% of Console and PC gamers are using mobile as a replacement for even a portion of their gaming.
"Mobile is growing, but not at the expense of Console or PC," said Altman Vilandrie & Company Principal Laurence Wong, co-director of the survey. "Mobile is working to grow usage, the gamer base, and overall market."
Augmented Reality and Virtual Reality hasn't fully arrived as a gaming platform, with only 44% of gamers (36% excluding China) having played AR/VR games. However, 67% stated (56% excluding China) that they would play games on an AR/VR device in the future. The main impediments to adoption are the still-high prices of AR/VR devices and the early state of the technology.
Mobile and F2P expand gaming accessibility, player base
Games that are Free-to-Play (F2P), or requiring no upfront charge, are now very popular, and were cited by players as the most common reason to try a new game. The F2P model continues to gain revenue market share with an estimated 80% of digital revenue for 2018 (Source: SuperData, January 2019). While F2P drives players to try games, the survey found that new content (e.g., new characters, new maps, DLC) is the most cited reason for continued engagement with a game.
"The free-to-play model gets people in the door," said Altman Vilandrie & Company Principal Jon Wakelin, co-director of the survey. "But without a compelling game or new content, the players are likely to move on quickly."
Altman Vilandrie & Company also discovered that Mobile has virtually closed the gaming gender gap. Women now play games at similar rates to men (79% for women v. 83% for men), buoyed by a strong preference for Mobile (33% of women gamers are "mobile-only" compared to 15% for men). At the same time, mobile preferences vary significantly by geography and gender, with women from most countries having different preferences than men of the same nationality. By contrast, Chinese gamers of both genders shared similar preferences.
"An optimized Mobile portfolio needs different IP and content for nearly every major market and gender," Wakelin said.
And, while F2P is the primary driver of adoption, players have expressed a strong willingness to pay for good games: 77% of mobile gamers say they have paid or would pay for a mobile game.
Rise of new content and revenue models
Players are increasingly embracing game-related video content and subscription services, introducing added opportunities for user adoption, retention, engagement, and monetization:

67% of video game players watch game-related content (e.g., eSports, Twitch);
81% of players that watch game-related content say that doing so makes them more likely to play that game; similarly, gamers that watch eSports play 2.1 hours more of the game that they watch each week;
62% of gamers pay for a game-related subscription service (e.g., PlayStation Now; Twitch Prime);
89% of gamers make in-game purchases (e.g. cosmetic, performance, or content-related upgrades).
"We're no longer in a world where you buy a $50 game and play it to completion and move on," said Wakelin. "Players are consuming all types of content that is ancillary to the game itself, and they're showing a preference for new revenue models like subscriptions and in-game transactions."
Gamers increasingly playing online and "on-the-go"
Today's gamers are leaving the living room both physically and virtually: 60% of Mobile gamers play "on-the-go" while commuting or traveling; at the same time, gamers are increasingly playing, watching, and buying games online.
"This shift in where people are playing and where the game is hosted is reducing the importance of 'winning the living room' for publishers and console manufacturers," said Wakelin. "And it opens the door for new providers to enter the game-service delivery chain." Supporting this notion, 72% of gamers stated that they would be willing to play games provided by a non-traditional provider (e.g., cable company, Google).
This shift has been enabled by improvements to internet infrastructure, from stronger mobile networks to faster wireline bandwidth to better cloud-based delivery models; however, there hasn't been a significant amount of direct monetization from the telecom players.
"We haven't yet seen the cloud and internet service providers take advantage of this new source of demand, but it should happen soon," said Wong. "We've already seen instances of Comcast, Google, and Sprint entering the gaming space in various ways, and more will follow."
Altman Vilandrie & Company fielded the online survey in January 2019 to more than 2,200 respondents (from U.S., U.K., China, and Japan) provided by Dynata.
Additional key portions of the analysis as well as charts and sources to support the findings are available here. More survey results, including detailed country-breakdowns and on eSports, will be released this spring. For more details on the survey please contact gamingsurvey(at)altvil(dot)com.
About Altman Vilandrie & Company
Altman Vilandrie & Company is a strategy consulting group that focuses on the telecom, media, technology and investor sectors. The company's consultants are experienced in strategy, marketing, finance, M&A, technology, regulatory and operations disciplines. Based in Boston, with offices in New York City and San Francisco, Altman Vilandrie & Company enables clients to seize new opportunities, navigate mounting challenges, improve business performance, and increase investor value within complex and converging industries.
Ninety percent of the boutique firm's operator clients are large- to mid-cap companies including service providers, technology and software developers, and media companies. Altman Vilandrie & Company's financial clients include many of the largest and most prominent investors in the telecom, media and technology markets.