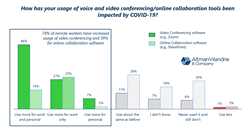 The biggest change has come in video conferencing: the survey reveals that 74% of remote workers now more frequently use conferencing software like Zoom and Skype.
BOSTON (PRWEB) April 24, 2020
With more Americans working from home than ever before due to COVID-19, workers are becoming more reliant on home internet, with three in four at-home workers using more video conferencing, according to a new survey released today by Altman Vilandrie & Company. The survey, conducted in April, reveals opportunities and challenges for home internet and mobile service providers as the social distancing and business restrictions continue.
Approximately 318 million Americans live in states with business closures or restrictions, forcing workers and employers to change Work From Home (WFH) policies and capabilities on the fly. The biggest change has come in video conferencing: the survey reveals that 74% of remote workers now more frequently use conferencing software like Zoom and Skype. This trend, and surges in streaming video usage, has put more strain on home internet services, with 43% of at-home workers reporting more slowdowns since the beginning of the COVID-19 stay-at-home measures. To a lesser degree, mobile networks are also strained as some consumers still use mobile internet at home (24% report slowdowns).
"While clearly secondary to public health concerns, the unprecedented mass migration from the traditional office to the home has its challenges," said Altman Vilandrie & Company Principal Mat Grudzien. "But the fixed and mobile internet structure has held up pretty well and providers now have the opportunity to rethink their strategies and create upside opportunities in the long run."
Grudzien noted that while reports of outages were up, it wasn't registering as a major concern: only 10% at-home workers named "slow or unreliable internet" as the top WFH pain point, an equal percentage to those concerned over a lack of dedicated home office space. The top WFH pain point was family/childcare distractions (32%), driven in large part by widespread school closures.
While COVID-19 is changing how people use their home internet and pushing them to evaluate their internet plans, a great deal of uncertainty remains: 37% of surveyed respondents didn't yet know if they want to keep or change their existing plan as a result of COVID-19. Of the remaining population that had an opinion, nearly one-third were planning to change their plan – a high amount for a relatively stable industry. However, not all this switching will have a negative impact on telecom operators, as only 31% of that group is considering spending less or cancelling their service.
"With special deals and improvements to speed and reliability, providers can tap into a growing reliance on connectivity," said Altman Vilandrie & Company Principal Matt Del Percio. "If the work restrictions and school closures continue into the fall, more consumers may feel the need to adapt and upgrade their home internet or mobile services."
Moving forward, the survey findings indicate work trends from COVID-19 will solidify even after the social distancing and work restrictions are lifted. The survey shows that 40% believe they will use video conferencing post-COVID-19 more than they did pre-COVID-19, with 27% expressing a similar belief in using online collaboration tools like SharePoint. Not one respondent said they would use those technologies less often in the future. The responses were more mixed for working from home after the work restrictions are lifted, with 33% saying they will work remotely more post-COVID-19 than they did pre-COVID-19, and 16% predicting they will do it less often.
"There's a lot of evidence that some of these WFH habits created by social distancing will have real stickiness," said Grudzien. "Telecom operators should first prioritize investment in their network and digital channels to make sure they can support this shift, but there is a long-term opportunity here to be more creative in how they cater to this new class of at-home workers. Concepts like 'no touch' installation and WFH bundling of services and software applications are now in play in whatever the 'new normal' looks like after COVID-19."
The survey, led by Grudzien and Del Percio, polled 803 U.S. consumers from April 4-6, 2020. For more charts and data, as well as other TMT survey analysis, please click here.
About Altman Vilandrie & Company
Altman Vilandrie & Company is a strategy consulting group that focuses on the telecom, media, technology, and investor sectors. The company's consultants are experienced in strategy, marketing, finance, M&A, technology, regulatory and operations disciplines. Based in Boston, with offices in New York City and San Francisco, Altman Vilandrie & Company enables clients to seize new opportunities, navigate mounting challenges, improve business performance, and increase investor value within complex and converging industries.
Ninety percent of the boutique firm's operator clients are large- to mid-cap companies including service providers, technology and software developers, and media companies. Altman Vilandrie & Company's financial clients include many of the largest and most prominent investors in the telecom, media, and technology markets.