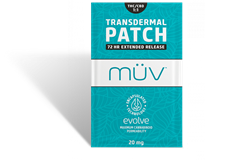 This formulation innovation simply delivers more effective and faster-acting effects that will continue to clearly differentiate the MÜV Products line from others
SARASOTA, Fla. (PRWEB) July 19, 2020
Alternative Medical Enterprises, LLC has been awarded patents for the United States and European Union for its Medical Cannabis Encapsulation Technology and Trademark on EnCaps™. EnCaps Products are an expanding product line at the 23 MÜV™ Medical Cannabis Dispensaries in Florida and at the flagship Arizona dispensary in Phoenix.
"Patents are extremely difficult to earn in the cannabis industry," said Mike Smullen, Chairman and CEO of AltMed Entreprises. "These patents validate our ongoing investment in research and development while also establishing intellectual properties that can be protected. It also further bolsters our award winning MÜV Medical Cannabis brand which has become synonymous with quality and consistency."
MÜV EnCaps technology is available in a growing number of MÜV products and formulations including MÜV Transdermal Patches (THC, CBD and 1:1 ratio), Tinctures (THC, CBD and 1:1), Transdermal gels (THC, CBD and 1:1) as well as Capsules (THC, CBD and 1:1). The same patented formulation is also part of the newly launched MÜV Health over the counter hemp-derived CBD product line cbdbymuv.com.
EnCaps products are for patients who prioritize a smoke-free delivery method that is both long-lasting and fast-acting. The MÜV EnCaps process makes cannabinoids water-soluble and therefore more readily absorbed within the body. This dramatically improves both onset time and overall bioavailability, creating a more effective product.
Brief Summary of the patent protected and trademarked EnCaps™ technology:

The term encapsulation refers to a small sphere which contains THC, CBD, and terpenes that are enveloped within the interior
Creates better absorption of transdermal and tincture formulations
Provides faster and long-lasting relief for patients
"These techniques have been widely used in the pharmaceutical industry to improve the efficiency and efficacy of products," said Todd Beckwith, AltMed Director of Corporate Affairs. "This formulation innovation simply delivers more effective and faster-acting effects that will continue to clearly differentiate the MÜV Products line from others."
About AltMed Enterprises - Alternative Medical Enterprises, LLC, headquartered in Sarasota, FL and doing business as AltMed Enterprises, is a fully integrated medical cannabis company that brings compassion, community engagement and pharmaceutical industry precision to the development, production and dispensing of medical cannabinoids.
About MÜV™ - The MÜV brand of cannabis infused products was launched in Arizona in 2016 and quickly gained international attention and recognition. In its first six months alone, MÜV received four best of Arizona medical cannabis awards, including two first prizes for its proprietary Ethanol extractions that are the basis of all MÜV products.
Forward-Looking Statements - To the extent any statements made in this press release contain information that is not historical, these statements are forward-looking in nature and merely express our beliefs, expectations or opinions. For example, words such as "may," "should," "estimates," "predicts," "continues," "believes," "anticipates," "plans," "expects," "intends," "potential," "strategy" and similar expressions are intended to identify forward-looking statements. Such statements are based on current expectations or estimates and involve a number of known and unknown risks and uncertainties that could cause our actual results, performance or achievements to be materially different from the results, performance or achievements expressed or implied by such forward-looking statements. Factors that could cause or contribute to these differences include, but are not limited to, the following: (i) our ability to implement our business strategy of distributing high quality cannabis products where permissible under applicable law; (ii) availability and cost of additional capital; (iii) our ability to attract, retain and motivate qualified employees and management; (iv) the impact of federal, state or local government regulations; (v) competition in the cannabis industry; (vi) our ability to generate revenues; and (vii) litigation in connection with our business. All forward-looking statements included in this press release and attributable to us or any person acting on our behalf are qualified by this cautionary statement. Forward-looking statements speak only as of the date on which they are made, and, except as required by law, we undertake no obligation to update or revise any forward-looking statement, regardless of whether new information becomes available, future developments occur or otherwise.