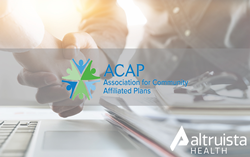 "Altruista has been a stalwart of the Preferred Vendor program and we're delighted to expand our partnership this year," said ACAP CEO Margaret A. Murray
RESTON, Va. (PRWEB) January 31, 2019
Altruista Health today announced its partnership with the Association for Community Affiliated Plans as the exclusive ACAP Strategic Ally in care management applications serving ACAP member plans.
Altruista has been an ACAP Preferred Vendor for six years and has current commitments underway to manage a total of 6 million lives in 10 ACAP plans by year-end. ACAP's safety net plans cover more than 20 million lives. Altruista's GuidingCare® technology platform most recently went live at Commonwealth Care Alliance® (CCA) in Massachusetts in support of their highly innovative care management module for health plan membership.
"To earn to a Strategic Ally designation demonstrates an ongoing commitment to safety net health plans and a deep understanding of the models of care used to engage populations with complex health needs," said Christopher D. Palmieri, President and CEO of CCA and chair of the ACAP vendor committee. "Serving these members requires true partnerships and a mutual dedication to improving healthcare for those who need it most."
"GuidingCare has proven efficacy for populations with varying degrees of risk but is especially effective for managing complex-care members," said Altruista CEO Ashish Kachru. "The high cost of managing multiple medical conditions means there are also abundant opportunities to improve member health outcomes and reduce avoidable adverse events."
As additional support to ACAP and plan members, Altruista will be the sole sponsor of a 2019 webinar series on Managed Long-term Services and Supports (MLTSS), offered to ACAP members. Altruista will also be the exclusive sponsor of the June 19 CEO Summit Alumni Dinner, held in conjunction with this year's ACAP CEO Summit in Washington, D.C.
"Altruista has been a stalwart of the Preferred Vendor program and we're delighted to expand our partnership this year," said ACAP CEO Margaret A. Murray. "Given that superior care management is one thing that sets safety net health plans apart, we're looking forward to learning more from Altruista as a result of our deeper relationship."
The GuidingCare technology platform seamlessly brings together all the information needed for comprehensive care plans that serve vulnerable members, integrating preventive and acute care, chronic disease management, behavioral health, long-term care and community services. This patient-centered model of care is portable through the Mobile Clinician app and is particularly well-suited for ACAP plans trying to engage with members who may be transient or who live in rural areas.
About Altruista Health
Altruista Health delivers population health management solutions that support value-based and person-centered care models. Our GuidingCare® technology platform integrates care management, care coordination and quality improvement programs through a suite of sophisticated yet easy-to-use web applications. Founded in 2007 and headquartered in the Washington, D.C. area, Altruista Health has grown into a recognized industry leader, and was named twice as one of the Top Population Health Management Companies to Know by Becker's Healthcare. Health plans and healthcare providers use GuidingCare to transform their processes, reduce avoidable expenses and improve patient health outcomes.
About ACAP
ACAP represents 60 not-for-profit safety net health plans in 29 states, which collectively serve more than 20 million people enrolled in Medicaid, Medicare, the Children's Health Insurance Program (CHIP) and other public health programs. For more information, visit http://www.communityplans.net.
About Commonwealth Care Alliance
Based in Massachusetts, Commonwealth Care Alliance® (CCA) is the not-for-profit, community-based healthcare organization whose mission is to provide the best possible care, individually tailored to the patients and members it serves. CCA has been nationally recognized for its innovative care model that improves health and quality outcomes while reducing overall care costs for individuals with complex medical, behavioral health, and social needs. CCA's two health plans serve over 30,000 members who are dually eligible for Medicaid and Medicare, and for three consecutive years, CCA's One Care plan earned a top rating from a consumer survey conducted by the Centers for Medicare & Medicaid Services. Learn more about CCA's solutions at http://www.commonwealthcarealliance.org/ or follow us on Twitter and LinkedIn.