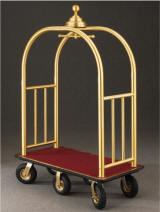 Top carts are manufactured with the highest quality materials and finishes to avoid costly maintenance and replacement parts. Glaro bellman carts are available in 31 low maintenance, tarnish proof finishes, and they can be shipped in one week or less.
Hauppauge, NY (PRWEB) April 30, 2014
As we enter travel season, Glaro Inc. urges hotels, condos, and cruise lines to look at the level of maintenance required on a bellman cart. The USA bellman cart manufacturer says that maintenance needs are determined by everything from the quality of raw materials used to the durability of a cart's finishes and even the efficacy of its design.
Glaro's Executive Vice President Robert Betensky says, "top carts are purposely designed and manufactured with the highest quality materials and finishes to avoid costly repairs and the need for replacement of parts. Imitation imports or substandard designs do not compare with Glaro's quality and often require continuous maintenance. Furthermore they do not last and should therefore be avoided."
Executives explain that Glaro Inc. specifically manufactures its carts to withstand harsh weather because they understand that bellman carts are often used and stationed outside entranceways of buildings. They also determined that a six wheel cart designed with their signature 'pinpoint maneuverability' system distributes weight in a unique manner without overstressing the cart's corner wheels. This exemplary engineering will outperform any four wheel cart on the market.
"A low maintenance cart that lasts is the result of smart design and engineering, as well as an unwavering commitment to quality, resulting in a product of unsurpassed performance," says Robert Betensky. Glaro Incorporated advises looking at a bellman cart's tubular construction. Luggage and bellman carts made with aluminum tubing are built to last and can withstand heavy use during peak travel seasons without developing structural problems. They also will not tarnish or rust.
Aluminum tubing is lighter than steel, eliminating the possibility of becoming top heavy, which is often the case with a steel or brass 'import.' The result is a more stable, lighter to ship, easier to operate, low maintenance hotel luggage cart. "When you consider their lifespan, which can last two to three times that of an import, their real cost is also considerably lower," says Executive Vice President Neal Glass.
Glaro Inc. executives also report that those using Glaro Glider Bellman Carts enjoy working with them. They are easy to keep new looking because they tend not to show fingerprints or streaks. "They are easy to wipe clean because of the quality of the bellman cart finishes," according to Plant Manager Robert Glass. The company reports that when coated properly, the finish will last indefinitely. By contrast, a plated steel finish on non-Glaro carts will rust. A streak free, low cost finish like Satin Aluminum or Glaro's special tarnish proof satin brass is much easier to clean and does not require polishing compared to solid brass, stainless steel, or titanium gold plated finishes.
The bellman cart customer service team at Glaro Inc. says that it rarely if ever hears of a cart that stops working properly and that it is extremely rare to receive requests for replacement parts. Glaro Inc. suggests taking preventative measures like selecting a luggage cart with the above qualities to make sure that it will remain attractive, perform its job well, and require as little maintenance and down time as possible.
Glaro bellman carts are available in 31 low maintenance, tarnish proof finishes. They can be shipped in one week or less to almost any location. Glaro Inc. also has a full line of matching Condo Carts and Platform Trucks.
For more information, visit: http://glaro.com/bellman.htm or call (888) 234-1050.
About Glaro Incorporated:
Glaro Inc. (glaro.com) is a leading USA manufacturer of commercial and consumer aluminum and steel products sold directly to distributors/dealers for almost 70 years. All products ship in 1 to 3 days. Product lines include bellman and luggage carts, platform trucks, metal trash receptacles, recycling receptacles, smokers' posts and receptacles, crowd control posts and systems, safety barriers, signs, sign frames, directories, menu display stands, coat hanging equipment, coat trees, indoor umbrella holders, wet umbrella bag stands, metal planters, and key drop boxes.