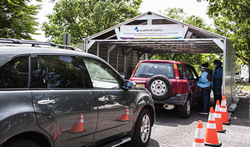 "We are very proud of our partnership with Aluminum Shapes and its efforts to help with preventing the spread of the Coronavirus throughout the community."
PENNSAUKEN, N.J (PRWEB) May 21, 2020
On Saturday, May 16, Aluminum Shapes LLC, a fully integrated aluminum services resource, donated its second COVID-19 drive-through testing shelter in Camden County, New Jersey. The new drive-through testing location is provided through a partnership with the Camden County Freeholders and Connor Strong & Buckelew and is located at 3100 Federal Street, across from Woodrow Wilson High School.
"The Freeholder Board wants to thank Solomon and Aluminum Shapes for their continued generosity and participation in our efforts to combat this insidious virus," Freeholder Director Louis Cappelli said. "His corporate citizenship is beyond reproach and we're proud to call him a partner in our effort to break the back of this virus by expanding testing to the citizens of Camden County."
"We saw the danger this virus posed and knew we could help," stated Solomon A. Rosenthal, Chief Executive Officer of Aluminum Shapes. "Our engineers, finishers, fabricators and other employees collaborated to design the shelters to support hospitals, municipalities and businesses that will need to establish remote testing facilities without exposing front-line healthcare professionals or individuals experiencing symptoms to potential carriers of the virus or the weather."
The aluminum shelters are completely recyclable, retain the COVID-19 Virus for the least amount of time of any building material, are easy to clean and disinfect, and provide a safe, sterile and secure place for hard-working healthcare workers to operate in. The shelters utilize high-grade aluminum to ensure the structural rigidity of the lightweight materials.
"As states make preparations to reopen sections of the economy, it is important that businesses play a key role in the preparations and ongoing path to recovery," stated George Norcross, of Conner Strong & Buckelew. "We are very proud of our partnership with Aluminum Shapes and its efforts to help with preventing the spread of the Coronavirus throughout the community."
Through the partnership with Conner Strong & Buckelew and The Camden County Freeholders, Aluminum Shapes is providing COVID-19 testing shelters to regional hospitals and businesses to use in their highest volume testing centers. The shelters replace the tents formerly used which were not weatherproof and were susceptible to damage from winds and storms. As the state looks for ways to safely reopen, there has been increasing demand for ways to administer testing safely.
"We're proud that Pennsauken is involved in providing safer workspaces to frontline healthcare workers during this challenging time," said Tim Killion, Mayor of Pennsauken Township. "Aluminum Shapes has been a part of this community for a long time, so it's not surprising that they're looking for ways to use their facility to help. We're grateful that a local business is taking such a front-line role in combatting the crisis."
The semi-permanent aluminum structures are available in multiple dimensions and replace vinyl tents, which the Center for Disease Control and Prevention warns that coronaviruses can remain viable for hours to days on some surfaces.
Aluminum Shapes is providing several shelters and drive through testing locations to local governments in hard-hit regions, and is renting the shelters at discounted rates to businesses assisting in the COVID-19 response nationwide.
To learn more about Aluminum Shapes' COVID-19 shelters, or for additional information about the company, please email shelters@shapesllc.com
ABOUT ALUMINUM SHAPES LLC.
A fully integrated company, Shapes offers the widest range of production and distribution capabilities in the industry including: Billet Casting, Remelt, Extrusion, Die Support, Fabrication, Finishings, Aluminum Anodizing, Engineering Design Support, Shipping and Distribution. From its 267,020 square meter, state-of-the-art facility, Shapes operates a highly efficient manufacturing and distribution operation with centralized administration, marketing, and customer service. Combined with our on-site engineering staff, technical support and quality assurance procedures, we can provide our customers with more rapid order fulfillment, higher quality, and better on time delivery performance. Backed by these capabilities and significant infrastructure investments over the last decade, Shapes has created one of the most comprehensive soft alloy aluminum extrusion facilities in North America.