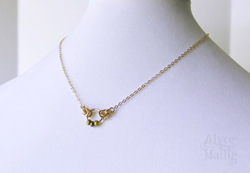 ...it was a fun challenge to design a piece that reflects the down to earth nature of Bones and its grown-up, science geeky vibe, while retaining a easy, wearable appeal.
Orlando, Florida (PRWEB) June 28, 2016
Alyce n Maille (http://alycenmaille.com) is pleased to announce that Bridgett Newton (playing Dr. Hazel Mitchell) has worn its Elegant Gold Beaded Necklace on Episode 1120 of the FOX Network's hit series, "Bones." The episode, "The Stiff in the Cliff," aired June 23, 2016. Previously, Alyce n Maille jewelry has been worn on The Originals, The Vampire Diaries and Jane the Virgin.
The Bones wardrobe stylist selected the Elegant Gold Beaded Necklace, an Alyce n Maille original design, to be worn by the character Dr. Hazel Mitchell after receiving it as part of a stylist gift bag initiative coordinated by arts promotion and celebrity gifting company The Artisan Group®.
The necklace, an Alyce n Maille original, is hand-woven using 14k gold filled rings and is detailed with metal and olive toned glass beads. It is available exclusively at alycenmaille.com(retail: $50.00).
"This necklace embodies the Alyce n Maille style. It is distinctive, fashion forward and lends a sophisticated air to any look," said designer and Alyce n Maille founder Jennifer Nyiri. "I'm a huge fan of Bones, so it was an fun challenge designing a piece that reflects the down to earth nature of the show and its grown-up science geeky vibe, while retaining a easy wearable appeal."
Alyce n Maille jewelry is a go-to staple for several Hollywood wardrobe stylists. The company's Crystal Shard Earrings were worn by Rebecca Breeds (as Aurora de Martel) on five episodes of the CW Network's The Originals.
A number of Alyce n Maille pieces have also been worn on The Vampire Diaries. A pair of Keepsake Crystal and Pearl earrings was donned by Candice King (as Caroline Forbes) on episode 521. Nina Dobrev (as Elena Gilbert) showed off a Blue Frost Crystal Pendant on the season six finale (episode 622). Finally, a pair of Lilac Crystal and Gold Earrings was seen on Scarlett Byrne (as Nora Hildegarde) on episode 706.
A Blue Twist Crystal Necklace was worn by Carrie Madsen (as Diane) on season one, episode 22 of Jane the Virgin.
These "As Seen on TV" designs are available to custom order at alycenmaille.com.
Jennifer's jewelry has not only been showcased on TV shows, but has been gifted at many of GBK's Luxury Celebrity Gift Lounges including the 2015 and 2016 MTV Movie Awards, the 2013 and 2014 Primetime Emmy Awards and 2013 New York Fashion Week. It's Not About Me TV has described Alyce n Maille jewelry as "beautiful," while the Los Angeles Informer calls it "stunning."
Alyce n Maille jewelry was founded in 2012. You can read more about Jennifer and her small business success story here.
Jennifer is also a huge animal lover. Supporting a cause that is close to her heart, Jennifer donates a portion of proceeds from the sale of Alyce n Maille jewelry to Dolly's Foundation (dollysfoundation.org), during her annual November fundraiser. Dolly's foundation provides community support for pet owners in need in the Central Florida area, including financial assistance for spaying/neutering, shots and food.
Follow Alyce n Maille on Facebook, Twitter Instagram and Pinterest (@AlycenMaille).
For more information about The Artisan Group, visit theartisangroup.org.
ABOUT ALYCE N MAILLE
Alyce n Maille (http://alycenmaille.com/) is a collection of artisan-made chainmaille jewelry and accessories with a hint of old world charm. Every piece of Alyce n Maille jewelry is carefully handcrafted by Jennifer using the highest quality materials. Her unique work is truly an art form in craftsmanship. When buying from Alyce n Maille one not only gets an amazing quality piece of handcrafted jewelry but a unique one on one experience with the artist. Purchasing from Alyce n Maille directly helps the artist and her family and not a big box store.