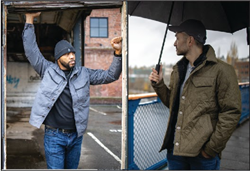 "Now, I've set the bar even higher with that same passion to design functionally distinct and stylish products that will make a difference for everyone."
AUBURN, Wash. (PRWEB) March 16, 2021
Explore the streets and beyond with the multi-functional, rugged yet reliable Responder Lite Tactical Chore Jacket and Primaloft Shirt-Jac, launching on Kickstarter today.
Men need a jacket that is suitable for work, recreational fun and everyday wear. Considered a "son" of AMABILIS' flagship product that successfully funded on Kickstarter in 2018, the Responder Tactical Jacket, the new Responder Lite Tactical Chore Jacket meshes everything customers loved about the original jacket with a more versatile everyday style. It merges the popularity and functionality of a tactical jacket with the durability and comfort of a chore jacket. The Primaloft Shirt-Jac is a casual, premium-insulated lightweight jacket that's been reimagined with performance-driven technical fabrics.
The Responder Lite Tactical Chore Jacket has eight total pockets and is made with a comfortable yet hardwearing material, known as NYCO 50/50 fabric. This blend of nylon and cotton was originally designed as a rugged, lightweight comfort solution for military combat uniforms. The tough NYCO fabric is engineered with Cordura yarns for enhanced abrasion and tear-resistant performance. The fabric is USA made to military specification standard and the jacket has a wrinkle-free finish.
The Primaloft Shirt-Jac is made with a woven heathered fabric and a 3M Scotchgard water repellent finish. It's uniquely quilted with 100 grams of premium Primaloft synthetic insulation to provide greater warmth than the typical puffy jacket. The Sherpa fleece-lined collar, water repellent finish, and oversized custom snap front ensure comfort, warmth and the ability to stay dry.
"I've been very fortunate over the last 25 years to design and build apparel and gear that broke new ground and led the way for our military, tactical and other first responders." said Brian Abrams, founder of AMABILIS. "Now, I've set the bar even higher with that same passion to design functionally distinct and stylish products that will make a difference for everyone."
The Responder Lite Tactical Chore Jacket offers the industry's first half sizes. The .5 FIT is a solution for those who fall between standard sizes. The jacket is available to pre-order in Tactical Black, Wolf Grey, Coyote Brown and Multicam Black starting at $159. The Primaloft Shirt-Jac is also available for pre-order in Charcoal Grey, Olive Green and Pacific Blue starting at $139, by visiting pr.go2.fund/amabilis.
About AMABILIS
The guiding principles of AMABILIS are innovation and imagination. We respect and are inspired by the classics, proven performers and work to evolve what's next. After 25 years of innovation and design, we are still at it with just as much passion and creativity as day one. For more information, visit https://amabilisgear.com/.