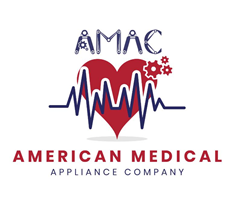 BROOKLYN, N.Y. (PRWEB) December 15, 2020
American Medical Appliance Company (AMAC) is honored to appoint its new CEO, Walid "Wally" Raad.
He joins the AMAC team with significant leadership skills, a pool of knowledge, and a steadfast dedication to our company's growth.
Wally is a proud graduate of the Sydney Institute of Technology, Australia were he was able to perfect both his passion for the dental field with his desire for improving the quality of people lives. Since then he has gained 20 years experience in the dental sleep field and has helped to transform the sleep industry through oral appliance therapy. In 2005 Wally held the position of U.S. Production Manager at Somnomed Inc. where he was an invaluable part in building the facility and responsible for training all production staff in the USA, Australia, and Europe. Wally also took an active role in the transfiguration of the product lines. Following that endeavor, in 2010, he went on to co-found Respire Medical LLC, where he had a successful tenure as Chief Technical Officer and was the sole inventor of their products. At Respire, Wally nurtured the staff on production and trained the facility in the USA, as well as trained the subcontractor facility in China, where they manufactured the vast majority of devices. Up to date, he has invented and been granted over 20 patents (domestically and internationally) for his appliances and his work focusing on sleep apnea treatment. Wally has trained production facilities in the USA and world wide; including, Australia, China, Japan etc., at some of the most well known and renowned facilities. His extensive knowledge and experience in the treatment of snoring and sleep apnea as well as TMJ dysfunction enables him the privilege to effectively design cutting edge custom treatment modalities for each individual patient. Wally aims to continue to bring superior care to each client as if they were an integral part of his extended family.
Wally's experience will definitely make him a very hands-on CEO in every aspect of the company's operations. His official start date of hire will be February, 1st 2021; however, he will join the team straight away to shadow all staff in order to get to know each and every single one of them and their individual roles. He will also be available and accessible immediately for all doctors,clinicians, and industry personnel.
Wally was additionally on hand for comment and released this statement. "It is an honor to be a part of this very special group of people! They have done a wonderful job thus far and I feel my input can only help to revolutionize oral appliance therapy in the industry through this wonderful partnering with AMAC. This has been a challenging year for everyone and our job is to make patient treatment easy and effective across the board with no delay".
AMAC Welcomes Wally.
American Medical Appliance Company is located in Brooklyn, New York, http://www.theAmericanMac.com