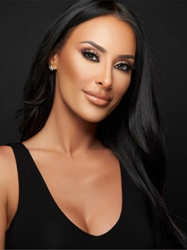 Concierge service and integrity, paired with extensive real estate knowledge, is the hallmark of Amanda DiMauro.
FORT LAUDERDALE, Fla. (PRWEB) January 14, 2023
Concierge service and integrity, paired with extensive real estate knowledge, is the hallmark of Amanda DiMauro. Specializing in luxury real estate in Fort Lauderdale, Boca Raton, and South Florida, Amanda DiMauro is amongst the elite of Fort Lauderdale's Award Winning and Highest Producing real estate agencies, Fidelity Real Estate, LLC.
Amanda is a South Florida native, raised in Boca Raton, & currently resides in Fort Lauderdale. At an early age, she was always drawn to real estate, often mesmerized by the architectural design features of luxury homes. Amanda's benevolent attitude & accommodating demeanor later developed into a thriving career as an Executive Personal Assistant/Estate Manager for high-profile executives and ultra-high-net-worth families. After 15 years of catering to elite business leaders and managing their affluent households, she decided to courageously pursue real estate full-time during the Covid-19 pandemic, which was not your typical start in the land of real estate. So, to say she had the courage to take on this role during the pandemic really means – she had the courage to jump into the most competitive time for real estate agents ever, especially in south Florida.
Today her early dreams are being fulfilled by helping many people find their dream home. One thing that sets Amanda apart from other agents is her genuine love for finding the right place to call home. It means more to Amanda than just helping her clients update their addresses. She strives to provide her clients with exceptional service and a wonderful buying or selling experience. Always respecting her client's finances as if they were her own, Amanda routinely exceeds her client's expectations by delivering the best possible price and terms.
There is no match to her professional drive of relentless pursuit to exceed her client's expectations in order to establish herself as one of the most accomplished, trusted and sought-after real estate agents in south Florida.
On a personal note, giving back is extremely important to Amanda. She is involved in many different charities and in addition, she strongly supports mental health awareness in honor of her late brother, Michael. Outside of her professional endeavors, Amanda partakes in daily health and wellness activities including weight training & yoga. She enjoys cooking (preferably Italian like her heritage) and entertaining at home but never passes up the newest fine-dining culinary experience in town. Her favorite obsession of all is spending time with her dog, a Brussels Griffon named Carmela.
Visit Amanda DiMauro's Haute Residence Profile: https://www.hauteresidence.com/member/amanda-dimauro/
ABOUT HAUTE RESIDENCE
Designed as a partnership-driven luxury real estate portal, Haute Residence connects its affluent readers with top real estate professionals, while offering the latest in real estate news, showcasing the world's most extraordinary residences on the market, and sharing expert advice from its knowledgeable and experienced real estate partners. The invitation-only luxury real estate network, which partners with just one agent in every market, unites a distinguished collective of leading real estate agents and brokers and highlights the most extravagant properties in leading markets around the globe for affluent buyers, sellers, and real estate enthusiasts. HauteResidence.com has grown to be the number-one news source for million-dollar listings, high-end residential developments, celebrity real estate, and more.
Access all of this information and more by visiting http://www.hauteresidence.com