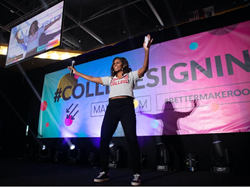 ARLINGTON, Va. (PRWEB) April 29, 2021
Today, Reach Higher announced that Former First Lady Michelle Obama will celebrate College Signing Day on Saturday May 1, to celebrate the Class of 2021. The pre-recorded broadcast will stream starting at 2 PM ET/11 AM PT on BetterMakeRoom's YouTube channel and on gaming platform Twitch via BlackStreamLive.
The former First Lady first celebrated College Signing Day in 2014 during her time in the White House as a way to celebrate graduating high school seniors across the country who pledge to continue their education after high school. These students have made the commitment to attend and graduate from a four-year university, community college, vocational or training program, or to join the military. College Signing Day is an opportunity to shine a spotlight on these students and celebrate them.
The event will include pre-recorded appearances by Mrs. Obama and other celebrity talent and VIPs including U.S. Education Secretary Miguel Cardona, Conan O'Brien, Steph Curry, Ted Allen, Chloe x Halle, The Weeknd, and Amanda Gorman. High school and college students will also participate by sharing their commitments to college as well as performing original content.
"College Signing Day is a chance for us all to drop everything and celebrate the hard work of students all across the country," said former First Lady Michelle Obama. "Over the past year, so many of these young people have missed milestones and persevered through remote learning. Yet at the same time, the uncertainty of the pandemic has shown once again how profoundly a college education can protect and transform a young person's future. So College Signing Day is an opportunity to recognize the unique and incredible achievements of this year's graduates and urge them on in their journeys to and through higher education."
"Every year since 2014, the Reach Higher team has helped organize and activate communities to use May 1 to create and to celebrate college going culture," said Eric Waldo, Executive Director of Reach Higher and Chief Access and Equity Programs Officer at Common App. "A college education is worth it now more than ever, and I'm so excited to celebrate the hard-earned achievements of students around the world this year."
Data shows that students who obtain a college degree will earn 84 percent more than their counterparts with only a high school diploma. Since the beginning of the pandemic and amidst an global economic downturn, the jobs that are most likely to be eliminated from the market are those that generally do not require a college degree. And the jobs that are coming back require more than a high school degree. Now more than ever, students need quality education beyond high school.
Since leaving the White House, Reach Higher has continued to recognize College Signing Day annually, and 2021 marks the eighth event. Mrs. Obama has celebrated across the country in San Antonio (University of Texas San Antonio 2014), Detroit (Wayne State University 2015), New York City (Harlem Armory 2016, Public Theatre 2017), Philadelphia (Temple University 2018), and Los Angeles (University of California Los Angeles 2019). In 2020, the celebration was virtual across social media.
You can learn more about Reach Higher and our Better Make Room campaign on social media on Facebook, Instagram, Twitter, Facebook, and our newly launched Tik Tok account (@ReachHigher and @BetterMakeRoom across platforms). Reach Higher created a toolkit to help counselors, educators, and supporters to plan their local events.
Reach Higher is now a part of Common App, a non-profit membership organization of over 900 colleges and universities dedicated to access, equity, and integrity in the college admission process. Each year, more than one million students, one-third of whom are first-generation, apply to college through the Common App's online application.