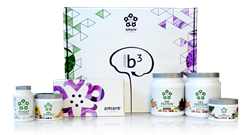 "Project b3 is not just a short-term program, but rather a lifestyle system. It's the holistic solution to a healthier well-being," said Dr. Shawn.
IRVINE, Calif. (PRWEB) January 03, 2019
Amare Global has launched Project b3, an innovative wellness program, which utilizes the body, brain and biome to optimize one's mental wellness and physical health. The program is the brainchild of Amare's Chief Science Officer Dr. Shawn Talbott, and his passion for everyone to live a healthier, happier life.
"The truth is body issues like diets and cravings are actually related to the brain (mental wellness), the biome (gut health), and the connection between them. So, they're actually part of something bigger — our body, brain and biome," explained Dr. Shawn. "That's why we called this system Project b3. We're incorporating all three, not just one, because that's what it takes to get a healthy lifestyle."
Project b3 utilizes SENSE, a step-by-step guide Dr. Shawn created to help optimize the gut-brain axis. SENSE includes five areas: Supplementation, Exercise, Nutrition, Stress Management and Evaluation. These steps in Project b3 provide effective tips and techniques to help optimize mental and physical wellness.
"Project b3 is not just a short-term program, but rather a lifestyle system. It's the holistic solution to a healthier well-being," said Dr. Shawn. "Mental wellness is not only in the brain, but also in the gut and that's how we need to approach our physical well-being. By boosting our mental wellness, we can finally achieve the health we've been missing in our physical wellness."
Amare offers a Project b3 Pack for people who sign up for the program, which includes a comprehensive booklet that details the regimen, a Reboot+ to get you started, and a box of Project b3-approved Amare products including an Amare FundaMentals Pack, VitaGBX, GBX Protein (2), GBX SeedFiber, and GBX SuperFood.
More than 2,000 people participated in the Project b3 Pilot Program, which spanned eight weeks. Project b3 was launched to the public on Jan. 2, 2019.
For more information about Project b3 or Amare Global, visit amare.com.
Media inquiries and/or interview requests may be sent to Mahsa Khalilifar at mkhalilifar(at)amare(dot)com.
About Amare Global
Amare Global® (http://www.amare.com) was founded in 2016 as "The Mental Wellness Company" and spent the better part of 2017 designing a platform of nutraceutical products focused on modulation of the microbiome and optimization of the gut-brain axis (GBX) to improve many aspects of mental wellness. With a vision to lead the global mental wellness revolution, Amare's mission is to create a holistic mental wellness platform that connects a purpose-driven community of passionate people. Amare's product formulations combine ancient natural wisdom with modern scientific innovation to develop natural health products and programs based on the emerging science of the microbiome.
*These statements have not been evaluated by the food and drug administration. This product is not intended to diagnose, treat, cure, or prevent any disease.