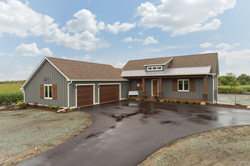 We are extremely proud to be recognized once again for our work to build custom homes with green building practices.
WOODBURY, Minn. (PRWEB) October 26, 2020
Amaris Homes, a leader in the affordable energy home industry, received Grand Winner recognition in the "Custom Homes on Spec" category from the U.S. Department of Energy's Housing Innovation Awards. This is the second time they have received this custom home design award in the last four years. In 2017, Amaris Homes tied for first place; this year the company was the only one named Grand Winner.
The company's award-winning model home is in Afton, Minnesota, and is a custom spec four-bedroom, 3 ½-bathroom home with a high-performance insulation system, energy efficient appliances and a high-efficiency comfort system, among other green features.
Amaris Homes has more certified custom-built green homes than any other builder in the state of Minnesota. While most other states have hundreds or even thousands of certified homes with the Department of Energy's Zero Energy Ready Homes Program, Minnesota only has 34. The Department of Energy's Housing Innovation Award winners represent the top 1% of U.S. builders that meet the rigorous specifications for the energy efficient custom homes program.
"We are extremely proud to be recognized once again for our work to build custom homes with green building practices," said Raymond Pruban, Amaris Homes founder and chief manager. "These awards provide further reassurance of the quality of our green homes, not just in build and appearance, but what they can do for the environment."
Energy efficient custom homes from Amaris Homes cut costs for homeowners by saving on energy bills while also doing so in a way that contributes to a sustainable future.
"Our goal is to continue to build homes with energy and water efficiency," Pruban added. "We will continue to grow the number of green homes we produce in 2021."
This Amaris Homes home incorporates efficient design principles that are calculated to save a homeowner $3,350 annually compared to the average new home.
As a healthy home builder, Amaris Homes has committed that every home it creates will meet the Zero Energy Home Program requirements.
Amaris Homes has won each time they have entered the Housing Innovation Awards. They also recently won the Reggie Award in 2019, which is an award granted for homes with high aesthetic appeal, along with other renowned custom home design awards.
For more information on Amaris Homes, or to speak with a homebuilding expert, visit minnesotagreenhomebuilder.com or contact Raymond Pruban at (651) 242-4850 or raypruban@gmail.com.