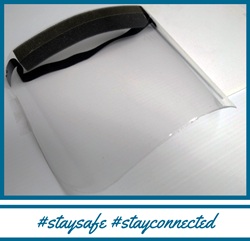 Stay Safe and Stay Connected
ERIE, Pa. (PRWEB) May 11, 2020
Amatech Announces PPE Line
Face Shields, Workstation and Desk Partition Kits, and Face Masks
Amatech is proud to be a part of the response efforts for Covid-19. Amatech announces that the PPE Line is now available. It is to encourage safety and wellness in the office, school/university, manufacturing and all business environments. Amatech's PPE Line can assist these organizations and institutions with this endeavor.
Positive Customer Impact
Many customers have already benefited from deploying the PPE Line. Amatech is not only manufacturing face shields, but 1 for every 3 produced will be donated. Hospitals and senior living staff members have been the recipients thus far. D
Customers are also benefiting from the workstation and desk partition kits. Quotes and orders are currently being fulfilled.
Amatech secured a supplier for face masks as well.
PPE Line Availability
Amatech's PPE Line is part of the quality products for those in need of increased safety. Partition kits are available for quote/order, face shields are also available to order as some stock has already been produced. Face masks are available for quote and will be delivered as the supplier can fill the order. For inquiries please visit: https://www.amatechinc.com/products/amatech-ppe-line .
Founded in 1989, Amatech a leader in the returnable packaging industry. As part of our mission Amatech has adapted to the current environment, we identified a need and began the response effort to COVID-19.
###
For more information, press only:
Hallie Riefstahl
800.403.6920 ext. 126
hriefstahl@amatechinc.com
For more information on Our PPE Line:
https://www.amatechinc.com/products/amatech-ppe-line