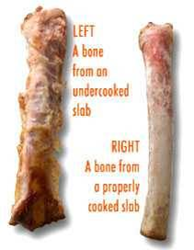 When properly rubbed, grilled, or smoked, and glazed, you've achieved truly Amazing Ribs! The sum of all the parts must be harmonious; a glorious complex symphony of textures, aromas, and flavors.
Brookfield, IL (PRWEB) June 24, 2019
AmazingRibs.com, the world's leading outdoor cooking resource, today proclaimed July 4th Official BBQ Ribs Day.
"Ribs have long been traditional on July 4th so we decided it should be official," said Meathead Goldwyn, the site's founder.
To celebrate, the editorial team offers up their tips for creating perfect ribs at home this Independence Day. You can also find a number of mouthwatering rib recipes here, including the site's famous Last Meal Ribs recipe, a.k.a. the best BBQ ribs you've ever tasted.
"When properly rubbed, grilled, or smoked, and glazed, you've achieved truly Amazing Ribs! The sum of all the parts must be harmonious; a glorious complex symphony of textures, aromas, and flavors, with none so strong as to dominate and mask the others. There's truly no better way to celebrate our nation's independence than with moist, tender, smoke kissed ribs," continued Meathead.
Among the site's steps for achieving perfection on BBQ Ribs Day:
Select the Right Ribs for You
For pork ribs, you are likely to come across three distinct cuts -- baby backs, spares, and St. Louis style or center cut. Directly attached to the backbone, baby backs and are the most tender and leanest ribs with most of the meat on top of the bones. Spareribs attach to the baby backs and run all the way down to the chest of the pig. St. Louis Cut ribs are spareribs with the tips removed to create a nice rectangular rack. Spareribs and St. Louis ribs have most of their meat in between the bones and they are the meatiest and most flavorful ribs. Country ribs are misnamed. They are really pork chops and should be cooked differently than real ribs.
For beef ribs, you can either opt for the ultra-meaty plate ribs (i.e. ribs taken from the short plate next to the flank steak, often referred to as dinosaur ribs due to their mass) or the more flavorful, less meaty, back ribs (the ribs found in a prime rib roast).
Remove the Membrane
If the butcher has not removed the paper-thin sheer membrane from the underside, do it yourself. It gets leathery and hard to chew, it keeps fat in, and it keeps sauce out. Insert a butter knife under the membrane, then insert your fingers, work a section loose, grip it with a paper towel, and peel it off like a sticker. Finally, trim the excess fat from both sides.
Slather Up
Some cooks like to use mustard under their dry rub to help hold the spices on. Instead, AmazingRibs.com's Clint Cantwell suggests using a thin layer of mayonnaise since "it is mostly fat and fat is flavor!"
Season It
The seasonings, usually a spice rub, should fuse onto the meat's surface and enhance the meat, but not overwhelm it. For pork ribs, use kosher salt before adding your spice rub. At AmazingRibs.com, we recommend pre-salting meats 1-2 hours in advance to allow the salt to be fully absorbed, a process known as dry brining, which enhances the juiciness of meat. Note that if you do dry brine, be sure to avoid commercial rubs that contain salt, opting instead for a flavorful homemade salt-free rub like Meathead's Memphis Dust. For beef ribs, a simple kosher salt and cracked black pepper blend is best.
Smoke It
Add about 4 ounces of dry wood to your cooker for at least the first hour of cooking. Do not soak the wood! This is a myth that is fully debunked at AmazingRibs.com. Put the wood as close to the flame as possible. The goal is to produce just enough smoke to complement the ribs and rub while avoiding a harsh, overpowering smoke flavor.
Aim Low
The ideal cooking temp is about 225°F, hot enough to brown the surface, develop a crusty bark, and melt fat and collagens without making the meat tough. If you are not using a smoker, set up a gas or charcoal grill for 2-zone cooking using the guide found here and cook the ribs on the indirect heat side of the grill. On most cookers, when the oven temp is 225°F at sea level, it takes about three to four hours to cook a slab of baby backs and about five to six hours to cook a slab of St. Louis cut ribs or spares. At higher cooking temperatures, decrease the cooking time.
Wrap If You Must
This optional trick (a.k.a. The Texas Crutch) involves wrapping the slab or ribs in foil with about an ounce of liquid for an hour or more to speed cooking and tenderize the meat a bit. Almost all barbecue ribs competition cooks use the Texas Crutch to get an edge. But the improvement is really slight and, at AmazingRibs.com, we never bother for backyard cooking. If you crutch too long, you can turn the meat to mush and time in foil can soften the bark and remove a lot of rub.
Sauce At The End
Once the ribs are properly cooked (read more about the various methods for determining doneness here), you can opt to add barbecue sauce. The sauce, if you use it at all, must remain subtle so as to not overwhelm the other flavors. Rib sauce is usually rich and slightly sweet to counterbalance the saltiness of the rub with a zippy pepperiness and acidic bite to counterbalance the sweetness. When adding sauce to ribs, be sure to do so only in the last few minutes of cooking, allowing just enough time for the sauce to become tacky but not long enough for the sugars in it to start to burn. One or two coats is enough. Don't hide the flavors of the pork, rub, and smoke. Alternatively, you can skip the sauce altogether and serve them "dry," or Memphis-style, allowing the meat, smoke, and rub to be the stars of the show.
ABOUT AMAZINGRIBS.COM
AmazingRibs.com (http://www.AmazingRibs.com) is by far the leading resource for BBQ and grilling information with more than 2,000 pages of product reviews, recipes, science-based cooking techniques, myth busting, tips, tricks, and community. In 2018, the site enjoyed more than 24 million pageviews, making it one of the most popular food sites of any kind. It boasts a team of 16 authorities and tastemakers, all devoted to educating backyard cooks around the globe. Suppliers are never charged to have products reviewed, they do not do sponsored articles, don't accept junkets, and all ads are sold by outside third parties.