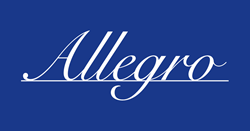 Improving security, reducing risks, and building trust around IoT edge devices is critical for creating value and business outcomes from an IoT ecosystem
BOXBOROUGH, Mass. and SAN FRANCISCO (PRWEB) February 25, 2020
At the RSA® Conference 2020 in San Francisco, California, Allegro Software, a leading supplier of security and connectivity software for the Internet of Things (IoT), today announced a configuration of the Allegro EdgeAgent Suite for Amazon FreeRTOS. The adaptation adds FIPS 140-2 validated cryptography and Transport Layer Security (TLS v1.3) as a drop-in replacement for existing TLS v1.2 along with advanced device management and IoT edge security capabilities. The Allegro EdgeAgent Suite is ideally suited to work in concert with Amazon FreeRTOS deployed in resource sensitive IoT execution environments like IoTanium, a reference hardware platform for rapid IoT development from Onica, a Premier Consulting Partner in the Amazon Web Services (AWS) Partner Network (APN). The Allegro EdgeAgent Suite is delivered as ANSI-C source and can be used to quickly build customized IoTanium based proof of concept applications to production-ready IoT edge solutions.
FIPS 140-2 AND TLS V1.3 FROM THE IOT EDGE
Millions of businesses trust AWS to power their infrastructure, applications, and now their IoT ecosystems. The use of AWS allows enterprises to lower costs, become more agile, and innovate faster during their development cycle. This is especially true when building IoT ecosystems where business outcomes are derived from IoT data and drive the resulting actions. With such high values placed on outcomes derived from IoT telemetry, IoT edge data security and authenticity play a critical role. To bolster IoT data security, major cloud service platforms are deploying TLS v1.3 along with cloud access points configured with FIPS 140-2 validated cryptography to better secure data collected from IoT edge devices. Although FIPS 140-2 is a U.S./Canadian Federal standard, FIPS 140-2 compliance has been widely adopted around the world in both governmental and non-governmental sectors as a practical security benchmark and realistic best practice. As major cloud platforms endorse and deploy TLS v1.3 and FIPS 140-2 configured access points, Allegro extends this trend to the IoT edge with the availability of the Allegro EdgeAgent Suite for Amazon FreeRTOS. By employing advanced security features found in TLS v1.3 together with FIPS validated cryptography, IoT edge device manufacturers can improve device security, reduce risks associated with data transport across unsecured networks, and ultimately build trust around their products.
ADVANCED DEVICE MANAGEMENT FOR IOT DEVICES AT THE EDGE
The Allegro EdgeAgent Suite provides additional device management and communications capabilities for IoT edge devices running Amazon FreeRTOS. For applications where IoT edge devices have local management requirements, the Allegro EdgeAgent Suite provides web-based device management via field-proven embedded web server technology in addition to an extremely powerful Command Line Interface (CLI) capability. Some IoT applications require flexible deployment architectures that utilize IoT edge gateway devices to bridge communications between other edge devices and cloud platforms. For these cases, the Allegro EdgeAgent Suite provides support on Amazon FreeRTOS for parsing and framing XML and JSON messages using SOAP or JSON services to bridge IoT devices and IoT gateway devices.
"The increasing use of IoT edge devices that are driving digital business transformations can introduce new and unseen risks to a business network. Security and risk managers are concerned with potential access to sensitive data, sabotage, loss of control to botnets, exposed IoT entry points that can lead to a major network security breach and more as they deploy IoT edge devices," says Bob Van Andel, President of Allegro. "Using the Allegro EdgeAgent Suite is another way IoT edge device manufacturers can proactively build trust by improving security with FIPS 140-2 validated cryptography and TLS v1.3 at the edge of their IoT networks."
"Improving security, reducing risks, and building trust around IoT edge devices is critical for creating value and business outcomes from an IoT ecosystem," says Tolga Tarhan, Senior Vice President, GM AWS Services at Onica. "We are excited to work with Allegro Software to help extend the use of FIPS validated cryptography and latest TLS v1.3 to IoT edge devices for better security."
The full Allegro EdgeAgent Suite is provided as ANSI-C source code and is available today. For more information, stop by the Allegro Software Booth #4610 or visit the Allegro Software website: https://www.allegrosoft.com
To learn more about IoTanium and how Onica gives customers a competitive edge in IoT by providing world class IoT solutions and connected products across several industries, please visit https://onica.com/services/iot-devices/
About Allegro
Allegro Software is a leading provider of IoT edge security and connectivity software toolkits to manufacturers worldwide. Field proven in 250,000,000+ devices, our solutions enable OEMs in Energy, Healthcare, Medical, Military, Enterprise, and Consumer markets to create connected secure devices using TLS, SSH, FIPS 140-2 and more. Since 1996, Allegro has been on the forefront of leading the evolution of embedded device management, security, and connectivity solutions with its patented embedded web server and security toolkits. Allegro is headquartered in Boxborough, MA. and can be found on the web at https://www.allegrosoft.com.
About Onica
Onica is a cloud consulting and managed services company, helping businesses enable, operate, and innovate on the cloud. From migration strategy to operational excellence, cloud native development, and immersive transformation, Onica is a full spectrum integrator, helping hundreds of companies realize the value, efficiency, and productivity of the cloud. Learn more at http://www.onica.com.
Contacts:
Loren Shade
VP Marketing
Allegro Software Development Corporation
978-264-6600
loren@allegrosoft.com
Connie Roudier
Onica
310-806-3644
croudier@onica.com