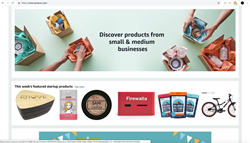 After featuring two of our eyeshadows in Ipsy subscription boxes, we've seen beauty enthusiasts flock to Amazon to purchase more shades and complimentary products. Amazon is neck and neck with large beauty brick and mortars
DETROIT (PRWEB) October 10, 2018
Is Amazon the newest leader in beauty? Sahi Cosmetics CEO Shelly Sahi credits Amazon Launchpad, a spotlight for new innovative brands, for her company's success.
"After featuring two of our eyeshadows in Ipsy subscription boxes, we've seen beauty enthusiasts flock to Amazon to purchase more shades and complimentary products. Amazon is neck and neck with large beauty brick and mortars"
Amazon.com has a scrolling section dedicated to this week's featured startups and the third featured item is Sahi Cosmetics Metallic Foil Eyeshadow in the shade SHIMLA. The brand has been supported by a startup business development division from the corporate headquarters.
For additional information, contact: Shelly Sahi at 734 837 1222 or contact(at)sahicosmetics.com
About Sahi Cosmetics:
Sahi Cosmetics was founded in April 2016 by Shelly Sahi. Sahi Cosmetics is a luxury brand for ethnic skin tones. Focused on catering to undertones, Sahi creates products that compliment women that are tan, olive, medium, and deep skin toned.