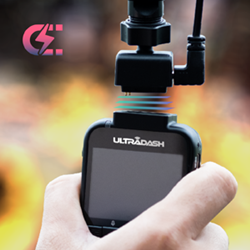 LOS ANGELES (PRWEB) July 12, 2019
Amazon Black Friday In July
Online shopping has become more popular, people spend more time and money shopping on the web especially on Amazon. The annual summer shopping Amazon Prime day is coming soon. Team UltraDash is introducing our Patented Magnetic Dash Cam to consumers with the best deal $49.97. To learn more click here on Amazon.
A Dash Cam Video Is Worth A Thousand Words
Whenever you're driving out on the road, there is always a chance that you could get into a car accident. It could be anything from a rear-end collision caused by a distracted driver to a scratch or hit from a driver hurrying to back out of a parking lot. And, with so many factors, it can be difficult to place an insurance claim or provide footage that can be used in court when an accident happens.
We understand the stress and worry. That's why we invent UltraDash C1. With our unique take on the smart yet simple idea of a dashcam, we want to provide the solution to driving accountability, one car at a time. C1 is the combination of the finest quality materials and artistic design in an affordable package. "We sought out to simplify the complicated operating functions while also making our device more intelligent than others. It is suitable for users of all ages and can be easily installed in only a few simple steps," said Joe Hsu, Cansonic UltraDash worldwide executive director.
Our patent-designed magnetic charging mount is equipped with a charging port, which uses the car charging cable and USB cable to charge the device. With its magnetic function, it allows you to place and remove the device quickly and easily, unlike traditional mounts that use a latching mechanism, and the wire arrangement in the car is seamless. We rigorously test the powerful magnets and unique structural design, so there is no need to worry about mounting or connection problems.
UltraDash C1 records excellent video quality, vivid color both Day and Night with its High-end Sony Exmor image sensor component, 2 inch TFT LCD display record footage at 1080p @30fps Full-HD resolution and G Sensor to detects any force which will in turn automatically protect recorded files. To learn more features click here.
Growing Problem Of Fake Online Reviews
Because of the growing problem of fake reviews, nearly 95 percent of buyers will check online reviews before making their purchase. With the help of professional review analysis website fakespot.com, our product analysis has an "A" true review grade.
Simply paste the product URL to analyze on the fakespot page.
Click Analysis to generate the analytical information and true scores report card.
About Cansonic UltraDash
Cansonic UltraDash is a leading innovator and manufacturer of user-friendly dash cams. It is now ISO/TS 16949 international standards certified, with the latter being a specific quality system addressing the automobile industry. Our products provide a high-quality safety experience for every driver on the road.
Contact:
Pierre Chan
Cansonic Inc.
Phone: 626-460-8807
E-mail: marketing@cansonic.com
Website: https://cansonic.com/
Instagram: @cansonic_usa
Media kit: http://bit.ly/c1mediakit
Introduction Video: https://youtu.be/7utdTQYoN3Q