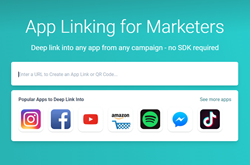 URLgenius has doubled our conversions in most cases. It is extremely invaluable to every client we work with because it makes the customer journey much easier and provides the experiences that produce more sales and higher rankings. - Manuel Suarez, CEO and Founder, AGM
NEW YORK (PRWEB) October 08, 2020
Amazon stores, sellers, and affiliates can increase conversion on Prime Day 2020 by updating their campaign links making sure they are "primed" for Amazon app conversion.
"Amazon sellers and affiliates need the ability to maximize sales this holiday season by removing the mobile friction shoppers face - particularly when clicking ads and links from within social media apps. URLgenius now offers the most robust support in the world for linking shoppers into Amazon's app to help sellers double and triple conversion rates." - Brian Klais, Founder and CEO, URLgenius
Mobile Shopping Journey Friction
When Amazon product links are promoted on social media and other marketing channels, regular Amazon links do not open the Amazon app for iOS or Android. This is due to the embedded browsers found in Facebook, Instagram and other apps. Instead, the shopper is sent to the Amazon website where login is required and where consumers typically abandon their shopping journey. This friction not only results in a poor customer experience but extremely low conversion. Sellers and affiliates can lose up to two thirds of their revenue when promoting products from within apps like Facebook, Instagram and other apps.
The Solution: URLgenius App Deep Linking
Updating Amazon URLs with URLgenius immediately solves this issue. The cloud-based, app deep linking solution with no SDK and nothing to install, URLgenius lets Amazon sellers and affiliates enter any of Amazon's 300 million web URLs to discover that page's iOS or Android app URL. Designed for marketers and agencies, Amazon campaign links can be updated in minutes and as a privacy-centric platform, consumer data is never tracked, collected or sold for retargeting. Sellers and affiliates still have time to update their campaign links before Amazon Prime Day. This will result in a measurable, dramatic increase in revenue and higher Amazon SEO rankings.
The Results
URLgenius is delivering results for Amazon stores, sellers, and affiliates around the world. Here are just a few examples:

About
URLgenius is the patented app deep linking platform trusted by thousands of marketers and agencies around the world. With nothing to install and no SDK required, brands use URLgenius to turn paid and owned media into mobile-friendly, web-to-app experiences without SDKs or PII risks. URLgenius is now the leading platform for linking into and out of social apps with support for linking into over 10 billion unique pages in apps like Facebook, Instagram, Snapchat and thousands more producing customer experiences that increase engagement, conversion and revenue.