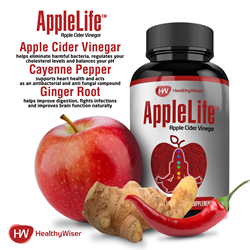 "I've been taking this Apple Cider Vinegar Capsule for 5 days and it's defiantly better than taking a cold shot of the liquid," shares an AppleLife™ Apple Cider Vinegar Capsules customer on Amazon. "I've noticed my face clear up & I've lost 3 pounds! Not Bad! Very happy about these results."
CHEYENNE, Wyo. (PRWEB) August 27, 2018
The AppleLife™ Apple Cider Vinegar Capsules launch has been a success as the HealthyWiser™ brand continues to break new ground in the health and wellness industry. The product debuted on Amazon last week Thursday, August 23rd to raving reviews with customers within the past few days telling of their improved detox, weight loss and skincare results thus far courtesy of the AppleLife™ Apple Cider Vinegar Capsules.
"Grateful and overwhelmed, there are no other words to describe how our company feels about how positive the market has responded to our latest offering," shares the HealthyWiser™ Marketing Department. "A lot of time, energy and research have been put into developing the AppleLife™ Apple Cider Vinegar Capsules because we know how important it is to deliver the best bang for your buck while maintaining the high health standards which customers have come to know and love us for."
Each of the 120 capsules provided per jar contains exactly 500 mg of apple cider vinegar powder to optimize weight management efforts and support nutrient absorption on a whole. The potent AppleLife™ Apple Cider Vinegar Capsules formula does wonders to cleanse the digestive system and prevents the build-up of waste blockages for those with low-fiber diets, as such two (2) capsules a day is advised.
"Apple cider vinegar pills may provide health benefits to people who take them regularly," explains Healthline.com. "According to a study published in the "Journal of Agricultural and Food Chemistry" in 2011, apple cider vinegar was shown to decrease triglycerides and bad cholesterol. Likewise, Earl Mindell, M.D., notes that apple cider vinegar helps to relieve digestive ailments like irritable bowel syndrome and heartburn."
For added value and nutrient support the AppleLife™ Apple Cider Vinegar Capsules is further formulated with 20 mg of cayenne pepper and 10 mg of ginger to support improved brain functions and heart health as well. A-list celebs like Scarlett Johansson and Katy Perry have publicly attested to the power of apple cider vinegar as part of their health and beauty regimes, so with arrival of the HealthyWiser™ AppleLife™ Apple Cider Vinegar Capsules self-care has just become a lot easier and tastier.
"I've been taking this Apple Cider Vinegar Capsule for 5 days and it's definitely better than taking a cold shot of the liquid," shares an AppleLife™ Apple Cider Vinegar Capsules customer on Amazon. "I've noticed my face clear up & I've lost 3 pounds! Not Bad! Very happy about these results."
HealthyWiser™ is a recognized and flourishing personal health and premium supplements brand offering products that are diligently tested to meet industry standards. Passionate about good health and innovation the HealthyWiser™ brand is committed to delivering quality to customers. Learn more about the AppleLife™ Apple Cider Vinegar Capsules on Amazon.