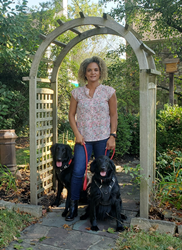 I saw legitimate results with my own dogs, which is what encouraged me to bring Pet Wants to this community. I'm looking forward to getting more involved in the community and helping other pet families understand what's in pet food and what makes Pet Wants different. - Amber Sutfin
PITTSBURGH (PRWEB) November 26, 2019
Amber Sutfin is pleased to announce the launch of her new business, Pet Wants South Hills.
Pet Wants' specially-crafted, private-label pet food formulas are made in small batches with fresh, natural ingredients enhanced with vitamins and minerals for a complete and balanced diet in every bowl. Pet Wants South Hills has multiple blends of dog and cat food formulas as well as healing salve, calming balm, anti-itch spray, paw wax and more.
Pet Wants South Hills is a mobile business that offers free, personal delivery to South Hills and Washington County, including Greentree, Carnegie, Dormont, Brookline, Mt Lebanon, Castle Shannon, Bethel Park, Upper St Clair, South Park, Whitehall, Peters Township, McMurray, Cannonsburg, North Strabane and Cecil.
The Sutfin family includes two flat coated retrievers, a 6-year-old named Sako and a 2-year old named Berk, a.k.a. Legend of the Bonenapper. Berk has earned his AKC Championship and his Canadian Championship and has recently trained to bird hunt. Before they switched to Pet Wants, Sutfin could see that Sako wasn't doing as well as she thought she should be.
"She was only 5, and had constant ear infections, skin problems and a lack of energy and she was just grumpy. Now that she's eating Pet Wants, her energy level is has completely turned around and her coat looks awesome and her ear issues are resolved. I saw legitimate results with my own dogs, which is what encouraged me to bring Pet Wants to this community," Sutfin said. "I'm looking forward to getting more involved in the community and helping other pet families understand what's in pet food and what makes Pet Wants different."
Sutfin, who received her United States citizenship this year, is originally from Canada and has lived in the United States since 2006. She has a degree in Interior Design and is a Certified Life Coach as well as a Certified Reiki Master and Animal Reiki Master Practitioner. She and her husband, Mike Sutfin, have two children – their 9-year-old son named Jacob and their 7-year-old daughter named Dagen. Sutfin decided to launch Pet Wants South Hills after seeing the impact nutrition had on her dog Abby.
"Before Abby passed away two years ago, I watched her health and quality of life decline. Worried about her, I dove into researching nutritional needs of dogs and ended up cooking her food with fresh, high-quality ingredients. I saw an immediate improvement in her coat, weight, energy level and quality of life. I know having the right nutrition made a huge difference in her last months," Sutfin said. "Although we were able to cook for Abby, I know that's a challenge for many families. That's where Pet Wants comes in. With Pet Wants, you get fresh food that's made with fresh, high-quality ingredients without adding something else to your own plate."
Pet Wants has a 100-percent, money-back guarantee on the freshness and quality of the food and the company only sources the best salmon, chicken, lamb, brown rice and other ingredients available. There's no sugar added, no fillers and no animal by-products and Pet Wants never uses corn, wheat, soy or dyes, which makes the food great for animals with allergies.
To learn more about Pet Wants South Hills, call 412-346-8335, email ASutfin@PetWants.com or visit http://www.PetWants.com/SouthHills.