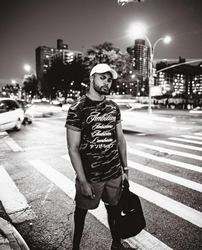 "I wanted to create a better product and a better business model, so it felt necessary to rebrand for two reasons," said Devin Lee, Ambition Worldwide's founder and creative director.
NEW YORK (PRWEB) October 12, 2020
Ambition Apparel has announced the official launch of its signature Ambition Worldwide line for October 2020 with a new website and the release of three limited-edition hoodies, a teaser of the collection to come next year and the label's first-ever cut-and-sew pieces.
Since its inception, Ambition Worldwide earned cult reputation as simple yet stylish streetwear, drawing attention from fashion and entertainment industry insiders like director Spike Lee and the cast of Fox's hit series, Empire, some of whom became early aficionados of the brand.
According to Ambition Worldwide's founder and creative director Devin Lee, "Initially my former partner Juan (or Blanco as he was known in the industry) and I, both hailing from New York, focused our efforts into something that would capture that New York aesthetic. But after his passing, and in some ways because of it, I've had to reconsider how the brand embodies so much more than just one city. 'Ambition' is already baked into its DNA, and I felt that attitude would resonate with so many different types of people, each with a unique story, purpose, and background wherever they may live." He continues, "As I honed the look and the technical aspects of the pieces, I wanted to make sure it was a label I could be proud of and how its official launch would be supported by a sensible business model."
To kick things off, Ambition Worldwide will bow with its S/S21 "World's Fair Collection" in January. The capsule will highlight both the brand's roots—Lee and Blanco grew up in Queens—as well as reinforce the label's plans for global expansion.
Highlights from the line, which draws inspiration for its color palette from the Mets and the New York State flag, include:
The "World's Fair button-up shirt" that features the print of an image Lee took and puts his personal stamp on the design.
The "World's Fair oversized tee" in eggshell, evokes the vintage feel of a white shirt from the era of the '62 Mets that has slowly aged overtime. The mid-weight cotton-jersey blend t-shirt drapes effortlessly but holds its shape at the same time.
"I went with a puff-print application for the designs to make them feel just that much more special," notes Lee. "The Unisphere on the back of the tee is a symbol for Queens and is the borough's claim to fame in terms of iconography and our landscape."
The "World's Fair short" in black will become a wardrobe staple due to its incredible fit and extended drawcards.
"This is my first-time making shorts too, so they are super special to me," added Lee.
Ambition Worldwide can be purchased at specialty retailers nationwide or online at AmbitionWorldwide.com beginning October 12, 2020.