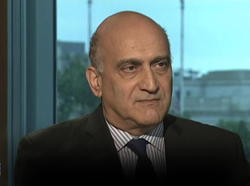 WASHINGTON (PRWEB) June 06, 2020
The American Mideast Coalition for Democracy strongly defended its senior advisor, Dr. Walid Phares, against an article in the New York Times by reporters, Adam Goldman and Michael S. Schmidt. AMCD Secretary, Rebecca Bynum, who had served as Dr. Phares' assistant during the 2016 Presidential campaign, penned a detailed and well-considered defense which appeared in New English Review.
President Trump has been reforming the Washington corrupt system, but the work is only partially complete. The corruption in government is much more extensive and pernicious than anyone could have believed a few years ago.
AMCD unequivocally supports Dr. Walid Phares, who has shown incredible courage in exposing radical Islamists and Jihadists of all stripes. He was correct to oppose Obama's Iran deal and correct to oppose the Muslim Brotherhood in Egypt and worldwide.