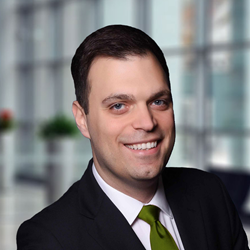 Michael comes to Ameex with fifteen years of experience working with high-tech startups, Fortune 500 companies, and iconic brands.
SCHAUMBURG, Ill. (PRWEB) April 19, 2019
Michael Mancuso, former Wendy's Head of Digital Analytics and Product Owner for Wendys.com, will join Ameex Technologies to establish a new digital experience practice. Building on the award-winning foundation Ameex Technologies has created over the past twelve years, Michael will focus on helping clients make the most of their MarTech investments by driving profitable growth through the creation of meaningful digital experiences.
"I was attracted by the company's ability to deliver, the quality of their work and the outcomes from their engagements stand out in the market,' Mancuso said. "There is a strong opportunity to build a practice on this foundation focused on helping clients generate strong returns from their MarTech investments."
Michael comes to Ameex with fifteen years of experience working with high-tech startups, Fortune 500 companies, and iconic brands. At Wendy's, he led the creation of Wendys.com, omnichannel personalization, and the development of an industry-leading digital analytics practice. He has previously held leadership roles at Owens & Minor, VisionWare, and SYMX Technologies.
"Michael has made many contributions to the digital community, his reputation as a thought leader in digital experience will drive value for our clients." Said, Ranga Srinivasan, CTO and President of Ameex. "We are looking forward to having him join the Ameex family."
Michael has extensive experience leading digital transformations and driving organizational change. He holds 24 industry certifications, including a Lean Six Sigma Black Belt, PMI's Agile Certified Practitioner, and is a Certified Scrum Professional through Scrum Alliance. He is a member of Scrum Alliance's Comparative Agility Advisory Team and has spoken about the importance of infusing organizational agility to fuel digital transformations at industry events across the world.
About Ameex Technologies
Ameex Technologies is an award-winning digital consultancy focused on helping brands select, implement and utilize best-in-class marketing technologies. A trusted voice in digital, Ameex has been helping clients for 12 years and has been on Inc 5000 list of fastest growing privately held companies for the past five consecutive years. Our 500+ teammates support customers across consumer packaged goods, fintech, healthcare, education manufacturing, and distribution. Key customers include Molson Coors, Purdue University, Global Atlantic Insurance, and many others.
For more information, call +1 (312) 238-9770 or visit: http://www.ameexusa.com.