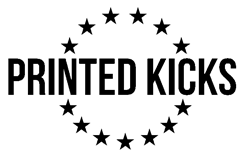 LAS VEGAS (PRWEB) June 15, 2020
PrintedKicks, the family-owned, proudly American online apparel retailer and supplier of conservative and patriotic gear, including hats, masks face covers, polos, shirts, tumblers, mugs, flags, shoes and more, announced today it is offering 20% off its Limited Edition Patriotic hats just in time for 4th of July celebrations. The USA-owned online retailer, known for its America-first values, supports more than 150 families through its employee workforce and suppliers. PrintedKicks is committed to making products in the USA as much as possible, while all of its apparel and accessory printing and embroidery is done in Michigan. The company believes in producing and supplying the highest quality products for Americans.
In keeping with their philosophy of supporting American communities by keeping jobs in America as much as possible, PrintedKicks has partnered with several local charities. Its most recent partnership is with Delivering with Dignity, a charitable organization that provides safe, healthy and free food delivery to Las Vegas area residents who are experiencing financial hardship and are most vulnerable to COVID-19. Helping fellow hard-working Americans who may be experiencing a time of need is one of the company's core values.
Moving forward into summer 2020, PrintedKicks is excited to not only serve its local community in need, but also honor and exceed the expectations of its loyal customers nationwide. The company has improved its backup supply chain and capacity moving towards even faster service and shipping of its high quality, conservative-friendly products. This improved efficiency will greatly benefit customers as they head out to 4th of July celebrations and other upcoming patriotic events this election year.
Visit https://www.printedkicks.com/ to make a purchase or learn more. For all the latest PrintedKicks news and promotions, follow them on Facebook at https://www.facebook.com/printedkicks/
About Printed Kicks
Nevada-based Printed Kicks is a family-owned, proudly American business with suppliers in California and Michigan. The company's founders and its employees are close to those who are on the front lines, including nurses, police officers, fire fighters, military personnel and all those who work daily to keep us safe and healthy. Giving back to American communities is a cornerstone of the company's philosophy and donations are frequently made to various charities. It strives to provide products which are made in the USA and is always searching for additional American suppliers to support the U.S. economy.
Media Contact
Printed Kicks Customer Service
info (at) printedkicks.com
Tel. 833-875-4257