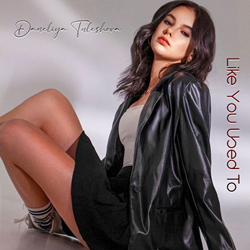 "Signing Daneliya was an easy choice. I have followed her progress since she was 10 years old and believe she has improved as both a vocalist and a performer at a speed the industry has not seen since some of the great female artists of the late 80s." - Rich Fayden, Founder of 4 Chords Records
LOS ANGELES (PRWEB) May 27, 2021
America's Got Talent Season 15 Top 6 finalist, 14-year-old Daneliya Tuleshova has signed to 4 Chords Records as their flagship artist and has released her debut pop single, "Like You Used To" available now across all digital platforms. The pop track has garnered over 100k streams just days since its release.
"I'm so excited to finally release my first single with 4 Chords Records," says Tuleshova. "Rich Fayden at the label saw and understood my vision as an artist and I am excited for what is to come."
Rich Fayden, Founder of 4 Chords Records, has a long history of discovering young talent and giving them opportunities and platforms to get their music out to the world, was struck by Tuleshova when he saw her perform Demi Lovato's "Stone Cold" on The Voice Kids Ukraine, where she was named the youngest winner to ever take home the winning title at just 10 years old.
Fayden says, "Signing Daneliya was an easy choice. I have followed her progress since she was 10 years old and believe she has improved as both a vocalist and a performer at a speed the industry has not seen since some of the great female artists of the late 80s."
Fayden co-wrote the track with Sony Music Director Henri "MGI" Lanz, who also produced the track and has collaborated with A-list artists including Kylie Minogue, The Weeknd, Pitbull, 50 Cent, Sean Kingston, Sia, and Justin Bieber just to name a few. "Like You Used To" showcases Tuleshova's vocal versatility while also delivering relatable lyrics paired with an up-tempo pop beat.
The song will be distributed by Orchard/SONY and will impact radio and playlists across all digital platforms.
Tuleshova is no stranger to the vocal competition world. The Kazakhstan, Astana based artist also holds the title of being the youngest to win The Voice Kids Ukraine and was also awarded the honor of representing Kazakhstan in the Junior Eurovision Song Contest. Since her time on AGT, her videos have gone viral collectively garnering over 70 million views. Additionally, the global sensation is building her name outside the music industry as she has been named the newest ambassador for NIVEA products in Kazakhstan.
For more information on Daneliya Tuleshova, follow her on:
instagram: @tuleshova_daneliya
youtube: @Daneliya Tuleshova