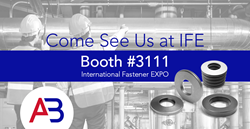 CLEVELAND (PRWEB) October 24, 2018
American Belleville is taking their show on the road this fall, exhibiting at the International Fastener Expo (IFE) in Las Vegas. IFE, the largest industrial fastener show in North America, expects to welcome more than 5,000 attendees and boast more than 850 exhibitors.
Attendees can visit American Belleville at Booth #3111 to learn more about the products and services offered and get a taste of the impeccable and attentive customer service that the company provides.
Look forward to speaking with the American Belleville leadership team about Belleville Washers, Flange Washers and Disc Springs, as well as the finer points of their Total Customer Experience model, designed to change the way that organizations think about the manufacturer-distributor relationship.
The International Fastener Expo will be held at Mandalay Bay in Las Vegas, NV from October 30 – November 1.
About International Fastener Expo (IFE)
Nearly 80% of attendees agree that the International Fastener Expo is a "must attend" event for suppliers and distributors alike as it is the most comprehensive B2B trade show that draws together the entire Fastener industry from around the world. IFE offers opportunities to build new relationships, network with peers, industry leaders, and business partners. There are plenty of ways to discover new products and learn the latest technologies being used across the industry, plus the exposition will offer educational conference sessions designed to help exhibitors and attendees grow and strengthen their business.
About American Belleville
Redefining Total Customer Experience, the American Belleville Way.
The American Belleville team of knowledgeable and hard-working experts design supply chain solutions specifically for the customer while encouraging engagement in every step of the process. The company manufactures and supplies Belleville Washers, Flange Washers, and Disc Springs through their fully integrated facility in Northeast Ohio.