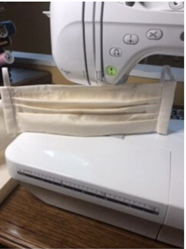 "We're extremely appreciative of the donation from Thomaston Mills that'll help out many patients in our hospitals. Thanks to the generous donation from businesses like Thomaston Mills we can focus on helping our patients instead of worrying about supplies."
THOMASTON, Ga. (PRWEB) April 14, 2020
Family owned Thomaston Mills, manufacturer of American Blossom Linens, a direct to consumer brand of organic cotton bedding, feels strongly that now is the time to give back. Over the past two weeks they have made donations of cloth to be used to make face masks by over 100 volunteers and sheet sets to help with the increased number of patients in hospitals
The following groups have put their hearts and souls into keeping the community near Thomaston's manufacturing plant supplied with the masks that they need to continue to serve.

Open Hearts Ministry, a volunteer organization from Vienna in Dooly County Georgia, is making masks for hospitals, nursing homes and anyone that calls for them in Albany, Tifton, Cordele, Vienna, Unadilla, Perry and Warner Robbins Georgia. Twenty-Five volunteers are making protective masks in their own homes for healthcare workers to be worn alone, with a filter or that can fit over their N95 masks so N95's can be reused.
Upson, Lamar and Pike County Mask Makers , a group of approximately fifty people founded by Kristen Musselwhite, Laura Wainwright, Becky Berry and Judy Dickens, is making masks in Upson, Lamar and Pike Counties in Georgia. They are making masks and donating them to sheriffs, police and fire departments in addition to nursing homes, hospitals and doctors' offices. Deidre Carpenter Cochran said on Facebook "Needless to say, I'm in tears!!! Thomaston Mills has done it again!!!!"
Thirty volunteers at Southern Grace Hospice in McDonough Georgia are making masks with filters for medical facilities, nursing homes and doctor's offices in Upson and surrounding counties.
In addition to supplying cloth for masks, Thomaston and American Blossom Linens donated 200 sheet sets to the University of Pennsylvania hospital, in Philadelphia, which is near their corporate headquarters. Jack Martin from the Corporate Materials Management Department said, "We're extremely appreciative of the donation from Thomaston Mills that'll help out many patients in our hospitals. Thanks to the generous donation from businesses like Thomaston Mills we can focus on helping our patients instead of worrying about supplies."
Everyday there is a different scary headline but despite the fear, individual people all around are coming together to battle this crisis and the human spirit is shining brightly. Currently hundreds of textile and clothing manufacturers and local groups nationwide are mobilizing to make as much personal protective equipment (PPE) as possible. American Blossom Linens and Thomaston are so proud to be able to participate in the efforts to keep the medical workers, law enforcement and service workers safe. They are thankful for their customers, suppliers and associates who are fully supportive of their efforts to give back to the community, as everyone endeavors to overcome COVID-19 and work to create a safer, healthier and more sustainable world.
To learn more about American Blossom Linens or to shop the collection visit
https://americanblossomlinens.com/
About Thomaston Mills
Thomaston Mills prides itself on crafting quality linens that have always been sourced and manufactured sustainably and ethically, with a focus on its customers. A leading manufacturer of quality linens since 1899, they know how to keep you comfortable. American Blossom Linens is a collection of environmentally responsible, luxuriously soft, 100% Made in USA organic cotton bedding.