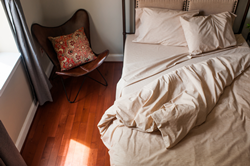 "Being a fundamental part in the breeding, growing and designing of the yarns for the domestic weaving and manufacturing of American Blossom Linens sheets leaves me feeling proud to be part of a greater whole. By the way you can follow my breeding crop growing on Instagram @vreseis."
THOMASTON, Ga. (PRWEB) August 06, 2020
American Blossom Linens, a direct to consumer brand of bedding made by family owned Thomaston Mills, introduced a new color called Latte Linen to their line of organic cotton percale sheets and duvets last year. It was so popular it sold out in less than 4 weeks. Latte Linen is made from a blend of West Texas organic cotton and Foxfibre® naturally grown colored cotton. After a long wait Latte Linen is back in stock.
During the past four months manufacturers have faced supply and production issues due to the Covid19 virus pandemic. Thomaston put in place new procedures at both of their plants to insure that all personnel were protected. Due to an increased need for hospital supplies, Thomaston increased its production of hospital bedding which did cause slight delays in delivery of other product lines. Thomaston who supports the reshoring of PPE to the USA, has also developed a PPE Fabric for hospital gowns which they are selling to hospital gown manufacturers.
Since the start of the Coronavirus and the issue with lack of PPE supplies, many people are looking more closely where the products they purchase are made. Per a study by Coresight Research, about half of consumers said they agree or strongly agree that U.S. retailers should cut back on sourcing from China. While nearly all textile manufacturing and production moved overseas, decimating factories and jobs, Thomaston Mills stood resolute and kept manufacturing here in the USA. Thomaston Mills has been making bedding for over 115 years in the town of Thomaston, Georgia.
What makes Latte Linen different from any other bedding product on the market is that it is made from a base fiber of natural West Texas organic cotton combined with Foxfibre® Coyote Brown heirloom cotton. Foxfibre® is organically grown in a rich color which is integral to the fiber itself. These linens are completely dye-free, not even a drop of dye is needed to give these sheets their beautiful shade. Dyed fabrics start to fade after a few washings, but the color of Foxfibre® will bloom deeper and richer over time. Natural variations in the fiber cause each set of bedding to be as unique as the plants it comes from. This creates a fabric that has the look of linen and the performance of the most luxurious, percale bedding. The more the linens are used and washed, the softer they will feel.
Foxfibre® cotton was created by Sally Fox, a "cotton pioneer" for her efforts regarding organic, colored cotton. In the 1980's she was the first to develop the systems to grow and promote organic cotton in the USA, which helped start the conversation about organic textiles. She hand breeds ancient, naturally pest resistant varieties that can be grown using organic and biodynamic farming methods. She was able to develop longer staple lengths that allowed the cotton fiber to be spun into high quality yarn. Naturally colored heirloom organic cotton is also more vigorous, drought tolerant, pest and disease resistant and requires less water. Toxic chemicals are often used to dye cloth in developing regions with little environmental regulations or worker safety protections. When Foxfibre® cotton is used there is no need to dye fabric in order to obtain a rich color.
The Latte Linen collection, available now on the American Blossom Linens website, includes sheet sets, duvet sets and pillowcase sets. The linens are generously sized with extra deep pockets to provide an excellent fit on almost any height mattress. "Top or Bottom" labels act as visual cues to help placement of the fitted sheet correctly on the mattress.
Creator Sally Fox who has been working diligently on her farm during the pandemic to continuously improve her cotton says, "Being a fundamental part in the breeding, growing and designing of the yarns for the domestic weaving and manufacturing of American Blossom Linens sheets leaves me feeling proud to be part of a greater whole. By the way you can follow my breeding crop growing on Instagram @vreseis."
American Blossom Linens are 100% made in the USA using traceable organic cotton grown by family farmers. All the components of American Blossom Linens bedding are grown, processed, finished and sewn in the USA, supporting American workers.
To learn more about American Blossom Linens, or to shop the collection, visit
http://www.americanblossomlinens.com.
About Thomaston Mills
Thomaston Mills prides itself on crafting quality linens that have always been sourced and manufactured
sustainability and ethically, with a focus on its customers. A leading manufacturer of quality linens since 1899, they know how to keep you comfortable. American Blossom Linens is a collection of environmentally responsible, luxuriously soft, 100% Made in USA organic cotton bedding.