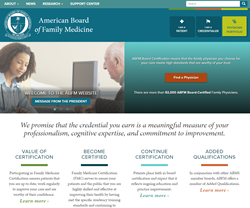 LEXINGTON, Ky. (PRWEB) March 20, 2019
The American Board of Family Medicine (ABFM) is excited to introduce its newly designed website as an improved online resource for ABFM Diplomates. The new website, available at http://www.theabfm.org, is designed to be useful, informative and easy to navigate.
The new website features a responsive design, providing functional access from a desktop, a tablet, or smartphone, creating an exceptional user experience for ABFM Diplomates. The revised content has been streamlined to ensure that physicians can locate useful information about ABFM Board Certification efficiently and effectively. The improved layout also features intuitive navigation, allowing Diplomates to access consistent and accurate information quickly and easily. The enhanced search feature is now better than ever at optimizing search results.
The ABFM's Find a Physician Directory allows patients to search for board-certified family physicians in their city or state. Choosing a board-certified family doctor provides patients with confidence that their doctor meets nationally recognized standards for education, knowledge, experience, and skills to provide high-quality care in a specific medical specialty.
ABFM is grateful to the many volunteers, including family physicians, residents, staff members, and members of its Board of Directors, for the time and input they provided throughout all stages of website development and testing of site functionality. Ongoing feedback about the site is welcomed, as we seek to continue to optimize this over time.
In the coming year, ABFM will be working to redesign the Physician Portfolio to better serve individual board-certified family physicians with their certification needs; Diplomate feedback and ideas for optimization will factor prominently in this next phase of website design.