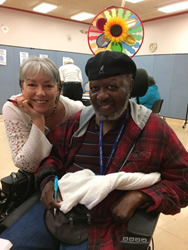 RALEIGH, N.C. (PRWEB) November 18, 2020
American Bone Health, the leading nonprofit organization dedicated to promoting healthy bones through community education, announces Kathleen Cody is retiring as Executive Director after 20 years in the position, and that Cheryl Hostinak will succeed her as Executive Director on Jan. 1, 2021. The leadership succession plan will ensure a smooth transition as the fast-growing advocacy organization moves forward after its 30th anniversary.
Cody, who joined American Bone Health in 2001, guided the organization through a major change in its mission. Founded in 1990 in Oakland, Calif., American Bone Health initially conducted clinical research and offered bone density testing. The Board of Directors recognized that the organization could make a greater impact by focusing on empowering consumers to make healthy choices. Cody executed this strategy by developing American Bone Health's signature educational programs and training a national network of volunteer Peer Educators. More recently, Cody has increased the public profile of American Bone Health through collaborations with other disease advocacy organizations, industry partners, and health care institutions.
"Kathleen Cody has been a dynamic and innovative leader for American Bone Health for 20 years, and she has been the face of the organization in the communities we serve and in the bone health field," said Paul Cline, President of the Board of Directors of American Bone Health. "We are delighted to have found in Cheryl Hostinak a successor who brings strong knowledge in the bone health field and a wealth of experience in engaging with consumers. Cheryl has already been working with the American Bone Health team to ensure a seamless transition once she takes over full time as Executive Director at the first of the year. American Bone Health is poised for continued growth and success with Cheryl at the helm."
"I am so grateful for all the great people I've worked with and the relationships that American Bone Health has built in communities all over the country," Cody said. "Raising awareness about bone health and how to prevent osteoporosis and fractures is a critical mission, and we have really made a lot of difference by reaching out to people in the communities where they live. There is still a lot of work to be done, but we have built a great team, and I'm confident that once Cheryl takes over, American Bone Health won't miss a beat."
Hostinak is a highly accomplished leader with a wealth of experience in the life sciences and biopharmaceutical industries, particularly women's health and bone health. Her roles have included patient engagement, advocate relations, marketing, business development, strategic planning, market research and clinical development.
"I am honored to have this opportunity to lead American Bone Health and build on what Kathleen, her team, the Board of Directors and all the wonderful volunteer Peer Educators have accomplished," Hostinak said. "My passion is improving patient health outcomes, and I have worked closely with patient advocacy organizations in my career. I look forward to expanding American Bone Health's reach so we can engage, educate and empower even more people to build and keep strong bones and prevent bone loss and fractures."
About American Bone Health
American Bone Health is a national, community-based organization that teaches people how to build and keep strong and healthy bones for life with practical and up-to-date information and resources to inspire them to prevent bone loss, osteoporosis and fractures. Learn more at https://americanbonehealth.org and @ambonehealth.