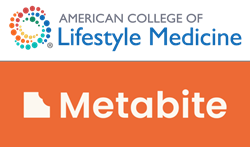 While there are thousands of nutrition and dieting apps, there are far less nutrition coaching solutions aimed at helping nutrition professionals scale their reach.
ST. LOUIS (PRWEB) November 17, 2022
The American College of Lifestyle Medicine (ACLM) has announced the addition of digital nutrition solutions innovator Metabite to its Lifestyle Medicine Corporate Roundtable, a group of thought leaders and industry professionals who explore effective clinical innovations, activate marketing strategies, accelerate reimbursement and policy adoption, and pursue research and demonstrations of lifestyle medicine in practice. ACLM launched its Corporate Roundtable in 2016 and it now includes nearly 50 active member organizations in the lifestyle medicine ecosystem.
Lifestyle medicine is a medical specialty that uses therapeutic lifestyle interventions as a primary modality to treat chronic conditions including, but not limited to, cardiovascular diseases, type 2 diabetes, and obesity. Lifestyle medicine certified clinicians are trained to apply evidence-based, whole-person, prescriptive lifestyle change to treat and, when used intensively, often reverse such conditions. Applying the six pillars of lifestyle medicine—a whole-food, plant-predominant eating pattern, physical activity, restorative sleep, stress management, avoidance of risky substances and positive social connections— also provides effective prevention for these conditions.
While there are thousands of nutrition and dieting apps, there are far less nutrition coaching solutions aimed at helping nutrition professionals scale their reach. There are even fewer solutions that have the necessary application programming interfaces (APIs) to enable integration with health systems, allowing them to serve at-risk populations while efficiently managing their workflows. Metabite excels in providing scalable, personalized digital nutrition solutions that can be integrated into hospital infrastructures and can be used to serve at-risk populations that often get overlooked. In addition, the Metabite solution is modular, allowing partners to select and use specific features that suit their specific needs.
Metabite interventions are cost-effective and scalable, yielding substantial returns on investment in private practices and large health systems alike. Metabite's versatility supports observational and interventional research as well and has even been shown to enhance exercise performance in individual athletes and entire sports teams. Its effectiveness in teaching "food as medicine" has garnered international acclaim, with researchers and clinicians at the University of Cambridge extolling Metabite as one of the top three most frequently used platforms in its class. Key features include an image-based food journal, timed curriculum rollouts, individual and group coaching, competitions and gamification, and customized questionnaires and key data collection. These elements work in concert to promote engagement and establish useful feedback loops that perpetually improve outcomes.
"We developed Metabite to amplify the efforts of forward-thinking organizations and health care professionals like those who clearly gravitate towards the ACLM," said Michael Quarshie, Co-Founder and CEO of Metabite. "Time, energy and budgetary constraints can paralyze well-intentioned businesses and individuals who really want to help others eat better and make lasting lifestyle changes. We built our platform to remove the barriers and help these champions serve their members and patients far more effectively than would otherwise be possible."
"Metabite's modular approach allows health providers the flexibility to scale solutions tailored to their particular needs," said ACLM President Cate Collings, MD, FACC, DipABLM. "Their interest in serving at-risk populations is particularly important as we look towards scaling lifestyle medicine solutions broadly. We welcome Metabite to our Corporate Roundtable."
ABOUT METABITE -- Metabite (formerly Wellness Foundry) built one of the world's first food photo journaling tools, enabling unprecedented, frictionless communication between healthcare professionals and their patients. The digital platform has since expanded its capabilities and is now more versatile than ever. Built upon the foundation of the original image-based food journal, Metabite now offers evidence-based diet and lifestyle change programs, individual and group coaching, unrivaled peer support and customizable integrations for healthcare settings. Metabite's scalable solutions are currently being used to support healthy habits at multiple Fortune 500 companies, to improve the diets of thousands of students at over 30 Finnish universities, and to glean groundbreaking insights into the relationship between diet and circadian rhythm at Harvard and Brigham and Women's Hospital. Beyond serving an array of renowned organizations across the globe, Metabite prioritizes supporting health care systems and providers to meet the needs of at-risk and underserved populations. Learn more at metabite.com.
ABOUT ACLM -- The American College of Lifestyle Medicine is the nation's medical professional society advancing lifestyle medicine as the foundation for a redesigned, value-based and equitable health care delivery system, leading to whole-person health. ACLM educates, equips, empowers and supports its members through quality, evidence- based education, certification and research to identify and eradicate the root cause of chronic disease, with a clinical outcome goal of health restoration as opposed to disease management. Learn more at http://www.lifestylemedicine.org.