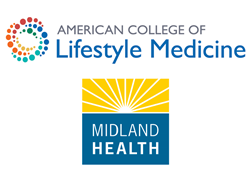 "To become the healthiest community in Texas, we quickly discovered that addressing lifestyle and health behaviors would be key."
ST. LOUIS, Mo. (PRWEB) June 25, 2019
The American College of Lifestyle Medicine (ACLM) has announced the addition of Midland Health to its Lifestyle Medicine Corporate Roundtable, a group of individuals and organizations whose collective vision is sustainable human health, a sustainable health care system and a sustainable world. It is the first health care delivery system in the nation to join the group.
In 1950, Midland Memorial Hospital, the only not-for-profit hospital in Midland County, Texas, was established by prominent community leaders with one mission: "To make quality healthcare available to all residents of Midland County." Funds to build the hospital were donated by individuals, corporations and foundations as a nonprofit, community-based hospital, offering medical care to west Texas community members, regardless of their ability to pay. The hospital opened its doors on July 11, 1950, as a community-owned, 75-bed hospital, serving the nearly 22,000 people who resided in Midland County at that time. Today it serves roughly 400,000 people.
Midland Health's Lifestyle Medicine Center was opened in 2017. The organization's commitment to Lifestyle Medicine was captured in this video, https://www.youtube.com/watch?v=FQ5gVLW2Ms4
As the result of Midland Health's Lifestyle Medicine programs and other community health efforts, Midland County has moved up to the 29th healthiest county in Texas out of 254, according to this year's County Health Rankings from the Robert Wood Johnson Foundation. The 2018 report had Midland County in the No. 42 spot. The rankings are based on length of life and quality of life.
"When Midland Health re-established our mission and vision statements in 2014 to lead the health care efforts in our area and ultimately become the healthiest community in Texas, we quickly discovered that addressing lifestyle and health behaviors would be key in us achieving that goal," said Midland Health Vice President, Community Health, Marcy Madrid. "Since then, we have worked to weave the philosophy of Lifestyle Medicine through the fabric of our organization, taking a progressive approach to delivering health care to our community in a more cost effective and outcome-based model. A closer partnership with the American College of Lifestyle Medicine is the next logical step as we join with other health care professionals across the nation to create a more sustainable and effective health care delivery model from which we can all benefit."
"Midland Health is one of the most innovative health delivery systems in the country, and its efforts in Lifestyle Medicine are making a measurable difference," said ACLM President Dexter Shurney, MD, MBA, MPH, FACLM, DipABLM. "We share a common vision for Lifestyle Medicine as the foundation of health care, and we are very excited to have them join us as the first health system in our Corporate Roundtable history."
The Corporate Roundtable of the American College of Lifestyle Medicine convenes health care and lifestyle thought leaders, with a keen focus on the power of Lifestyle Medicine to transform health and health care. Roundtable members explore effective Lifestyle Medicine clinical applications, strategies for accelerating reimbursement, and adoption and analysis of potential business-related opportunities. The Roundtable launched in 2015 and has grown to include more than 30 active member organizations.
ABOUT THE AMERICAN COLLEGE OF LIFESTYLE MEDICINE: ACLM is the medical professional society for those dedicated to the advancement and clinical practice of Lifestyle Medicine as the foundation of a transformed and sustainable health care system. Lifestyle Medicine is the use of a whole food, plant-predominant dietary lifestyle, regular physical activity, restorative sleep, stress management, avoidance of risky substances and positive social connection as a primary therapeutic modality for treatment and reversal of chronic disease.
More than a professional association, ACLM is a galvanized force for change. ACLM addresses the need for quality education and certification, supporting its members in their individual practices and in their collective mission to domestically and globally promote Lifestyle Medicine as the first treatment option, as opposed to a first option of treating symptoms and consequences with expensive, ever increasing quantities of pills and procedures. ACLM members are united in their desire to identify and eradicate the root cause of disease. Learn more at http://www.LifestyleMedicine.org.
ABOUT MIDLAND HEALTH: Midland Health is system of health care providers in Midland, Texas, with Midland Memorial Hospital at the center of operations. Since 1950, Midland Memorial Hospital has exemplified excellence in patient care, medical education and community service. The mission and vision to lead health care for greater Midland and make Midland the healthiest community in Texas was established with the creation of Midland Health in 2014, expanding its health care footprint and impact through a coordinated system of providers. As Midland Memorial Hospital, a not-for-profit entity, drives much of the work, the guiding principles behind Midland Health show a commitment to improving the community by reinvesting volunteered time and finances into the health of west Texas. Learn more at https://www.midlandhealth.org/