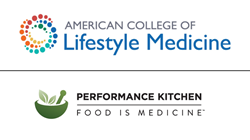 Performance Kitchen is the ideal of future healthcare, empowering a healthier world through meal prescriptions that people want to eat, not have to eat.
ST. LOUIS (PRWEB) July 20, 2022
The American College of Lifestyle Medicine (ACLM) has announced the addition of Food Is Medicine™ organization Performance Kitchen to its Lifestyle Medicine Corporate Roundtable, a group of thought leaders and industry professionals who explore effective clinical innovations, activate marketing strategies, accelerate reimbursement and policy adoption, and pursue research and demonstrations of lifestyle medicine in practice. ACLM launched its Corporate Roundtable in 2016 and it now includes nearly 50 active member organizations in the lifestyle medicine ecosystem.
Lifestyle medicine is a medical specialty that uses therapeutic lifestyle interventions as a primary modality to treat chronic conditions including, but not limited to, cardiovascular diseases, type 2 diabetes, and obesity. Lifestyle medicine certified clinicians are trained to apply evidence-based, whole-person, prescriptive lifestyle change to treat and, when used intensively, often reverse such conditions. Applying the six pillars of lifestyle medicine—a whole-food, plant-predominant eating pattern, physical activity, restorative sleep, stress management, avoidance of risky substances and positive social connections—also provides effective prevention for these conditions.
Performance Kitchen is a nutrition company specializing in reimbursable, medically tailored meal plans for post-discharge hospital and chronic care condition patients nationwide. Its nutritionally balanced meals, including plant-based options, are developed through registered dietitian and chef collaborations and prescribed by doctors to adhere to more than 100 diagnostic codes. Its meals are evaluated by a team of chefs and experts to ensure the flavors are authentic to the cuisine and represent the cultural dynamics of the U.S. In addition to its more than 60 culturally inspired recipes, the company has teamed up with insurance partners to offer educational videos, recipe hacks and exercise classes to incorporate healthy habits and encourage patients to lead a healthier life, one step at a time.
With nationwide production, Performance Kitchen has warehouses across the country that service 98% of the U.S. population within two-day delivery.
"At Performance Kitchen, we truly believe that food is medicine," said Performance Kitchen CEO John Yamin. "Improving a person's dietary practices and behavior is the first step in supporting them on their journey to wellness."
"Performance Kitchen is the ideal of future healthcare, empowering a healthier world through meal prescriptions that people want to eat, not have to eat," said ACLM President Cate Collings, MD, FACC, DipABLM. "ACLM is pleased to welcome Performance Kitchen to the Corporate Roundtable."
ABOUT PERFORMANCE KITCHEN--Performance Kitchen is creating the next generation of healthy home-delivered meals, focusing on great taste, convenience, nutrition and culinary medicine through its wide variety of culturally inspired meals. Originally founded in 2011 with a mission to make delicious food that people want to eat, not have to eat. Performance Kitchen works alongside a team of chefs, doctors and registered dietitians to develop a variety of frozen ready-made meals with real, wholesome ingredients. We provide reimbursable medically tailored meals to post discharge patients and chronic care patients nationwide that address conditions, such as diabetes, heart disease, obesity and renal disease, as well as offering a selection of plant based, dairy free and gluten free meals. We support our members on their wellness journey by taking a holistic approach to improve all aspects of their life from nutrition to physical & mental wellbeing. Performance Kitchen meals are available in grocers nationwide in the U.S. and Canada, and on their website, http://www.performancekitchen.com.
ABOUT ACLM--The American College of Lifestyle Medicine is the nation's medical professional society advancing lifestyle medicine as the foundation for a redesigned, value-based and equitable healthcare delivery system, leading to whole person health. ACLM educates, equips, empowers and supports its members through quality, evidence-based education, certification and research to identify and eradicate the root cause of chronic disease, with a clinical outcome goal of health restoration as opposed to disease management.