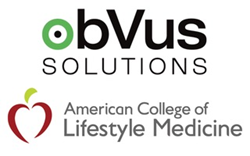 obVus Solutions develops technology centered around posture, breathing and activity to condition people to build healthy habits.
ST. LOUIS, Mo. (PRWEB) December 12, 2018
The American College of Lifestyle Medicine (ACLM) today announced the addition of wearable health and posture technology startup obVus Solutions, Inc. to its Lifestyle Medicine Corporate Roundtable. The company, founded in 2014, creates wearable devices and technologies to deliver vital individual personal health and posture information on all global digital delivery platforms.
obVus has developed a wearable device called a "minder," which includes accessories that allow it to be worn as an advanced smartwatch on the wrist, but also on the back, neck, chest or stomach. The patented technology visually renders and coaches user or "mindee" posture and breathing. Every user is matched with a licensed health care provider or "minderPRO" of their choice, who with them establishes personalized wellness programs focused on building better health habits. The insightful data captured allows the person and their provider to efficiently navigate a clear path to wellness beyond the exam room, complete not just with tracking, but motivation and compliance management in a fun environment.
"Health care needs disruptive change," said Ken Rosenblood, CEO and Founder of obVus Solutions, Inc. "obVus Solutions develops technology centered around posture, breathing and activity to condition people to build healthy habits and to receive personalized wellness coaching from leading Lifestyle Medicine professionals. We are excited to work with ACLM to help improve people's health and health care overall."
"Tracking not just health data but health-plus-posture information and then being able to partner with patients beyond that data as a coach, motivator and compliance guide is an exciting development for physicians and other health providers," said ACLM President Dexter Shurney, MD, MBA, MPH, FACLM. "We welcome obVus Solutions to the Corporate Roundtable as a next-generation health technology provider, change agent and patient empowerment leader."
The Corporate Roundtable of the American College of Lifestyle Medicine convenes health care and lifestyle thought leaders, with a keen focus on the power of Lifestyle Medicine to transform health and health care. Roundtable members explore effective Lifestyle Medicine clinical applications, strategies for accelerating reimbursement and adoption and analysis of potential business-related opportunities. The Roundtable launched in 2015 and has grown to include more than 30 active member organizations.
ABOUT THE AMERICAN COLLEGE OF LIFESTYLE MEDICINE: ACLM is the medical professional society for those dedicated to the advancement and clinical practice of Lifestyle Medicine as the foundation of a transformed and sustainable health care system. Lifestyle Medicine treats, often reverses and prevents chronic disease. It is the combined use of evidence-based lifestyle therapeutic approaches, such as a predominantly whole food, plant-based diet, regular physical activity, adequate sleep, stress management, avoidance of risky substance use and other non-drug modalities.
More than a professional association, ACLM is a galvanized force for change. ACLM addresses the need for quality education and certification, supporting its members in their individual practices and in their collective mission to domestically and globally promote Lifestyle Medicine as the first treatment option, as opposed to a first option of treating symptoms and consequences with expensive, ever increasing quantities of pills and procedures. ACLM members are united in their desire to identify and eradicate the root cause of disease. Learn more at http://www.LifestyleMedicine.org.
ABOUT OBVUS SOLUTIONS: obVus Solutions, a Los Angeles based health care technology company, has developed the first clinically credible utility wearable named 'minder'. The minder will consist of the core device and an ecosystem of accessories which allows it not only to be worn as an advanced smartwatch, but also be worn on the back, neck, chest or stomach. The patented technology visually renders and coaches user 'mindee' posture and breathing. Every mindee is matched with a licensed health care provider 'minderPRO' of their choice. Side-by-side with their mindees, the minderPro establishes personalized wellness programs focused on building better health habits. minderPros have constant access to accurate and organized data from each of their mindees throughout their everyday lives. minderPROs can motivate, admonish, praise and reward mindees individually and as a group in real-time via the minderPRO Message Center. Powerful insightful data allows them to efficiently shepherd a clear path to wellness beyond the exam room for the mindee. The minderPro can mind, motivate and manage their patients' compliance in an environment which is fun for their patient and their practice. Learn more at https://www.obvus.me/